By Frances J. Karon
The best sons of the best stallions attract large, quality-filled first books of mares, and their first weanlings, yearlings, and 2yos are more than well-received in the marketplace. But for all the early gimmes, when it comes to performance, these young guys have more to prove. By the time their highly touted 2yos run, the stallions are almost at a disadvantage, because their own sires' brilliance is a black mark against them if they don't come out of the gate guns a-blazing. When expectations are that high, the judgment of being branded as disappointing or a failure is swift and cruel, and it spreads to their own sires.
Take, for instance, Tapit, the nation's leading sire from 2014 to 2016 inclusive who I've written about here before: despite being the sire of the sires of champions Monomoy Girl (Tapizar) and British Idiom (Flashback) and of G1SW American Gal (Concord Point), for the longest time he was branded as a poor sire of sires. His champion 2yo Hansen conceived only one crop in the U.S. before being sold to South Korea, while Tapizar, after many seasons on the Gainesway roster, died in quarantine last year following his sale to Japanese interests. Other GSW sons of Tapit that started out in Kentucky before finding their way to less competitive pastures include Flashback and Race Day (both in Louisiana), Concord Point (South Korea), and Trappe Shot (Turkey). It wasn't until Constitution's first crop raced in 2019 that Tapit, the first of whose foals as a paternal grandsire were 2yos in 2014, was suddenly seen as capable of getting a top sire son.
Unbridled's Song has long been in a similar rut, a so-called "poor sire of sires." His G1SW sons that didn't make the grade in Kentucky include Buddha (next to Pennsylvania, then Argentina), First Defence (Saudi Arabia), Graydar (California), Political Force (Saudi Arabia), and Zensational (Argentina). Only one of those, First Defence, was able to sire at least one Northern Hemisphere-conceived G1SW.
Emcee, Songandaprayer, and Thorn Song, G1 winners all, started out in New York, Florida, and California, respectively; Songandaprayer did move to Kentucky for a while but was later transferred to Louisiana. None of them has sired a G1 winner.
Of the Graded stakes-winning Unbridled's Song stallions who were based in Kentucky for at least one covering season and have 5yos or older, only champion 2yo Midshipman, who has no NoHem-conceived G1SWs (and is one of my favorite inexpensive stallions); Will Take Charge, sire this year of his first North American GSW, Will's Secret; and Cross Traffic — who got champion 2yo filly Jaywalk in his first crop — still remain, and none of the trio stands for more than $7,500. (Even the Score, a multiple G2SW and, after First Defence and Liam's Map with three G1SWs each, the third best son of Unbridled's Song on the basis of NoHem G1SWs sired with two, stood exclusively in Kentucky before being pensioned, and his stud fee stayed between the $5,000 and $15,000 range, more often on the lower end of that scale.) We wrote about Cross Traffic a couple of years ago, wondering if he might be "the one." He, not surprisingly, quieted down following Jaywalk's championship season and hasn't carried the momentum, but the jury's still out because the foals conceived in the aftermath of Jaywalk's championship season are only yearlings now. This is the typical ebb and flow that challenges most fledgling stallions, where even those who are capable of getting a champion, Classic winner, and/or Breeders' Cup winner — Unbridled's Song's Rockport Harbor (sire of BC Juvenile Fillies winner Ria Antonia) and First Defence (Classic winner Siskin), and Tapit's Tapizar and Flashback — are not always supported by the overreactive markets of season trading and sales prices.
But 15+ years from when his first sons had 2yos, and just in time for champion Arrogate's first juveniles to take the stage, it has begun to look like Liam's Map may be to Unbridled's Song what Constitution is to Tapit. Interestingly, neither Constitution nor Liam's Map raced at two, and both retired for an initial fee of $25,000, and while you can't get anywhere near Constitution for that price now, Liam's Map is a real bargain at $30,000.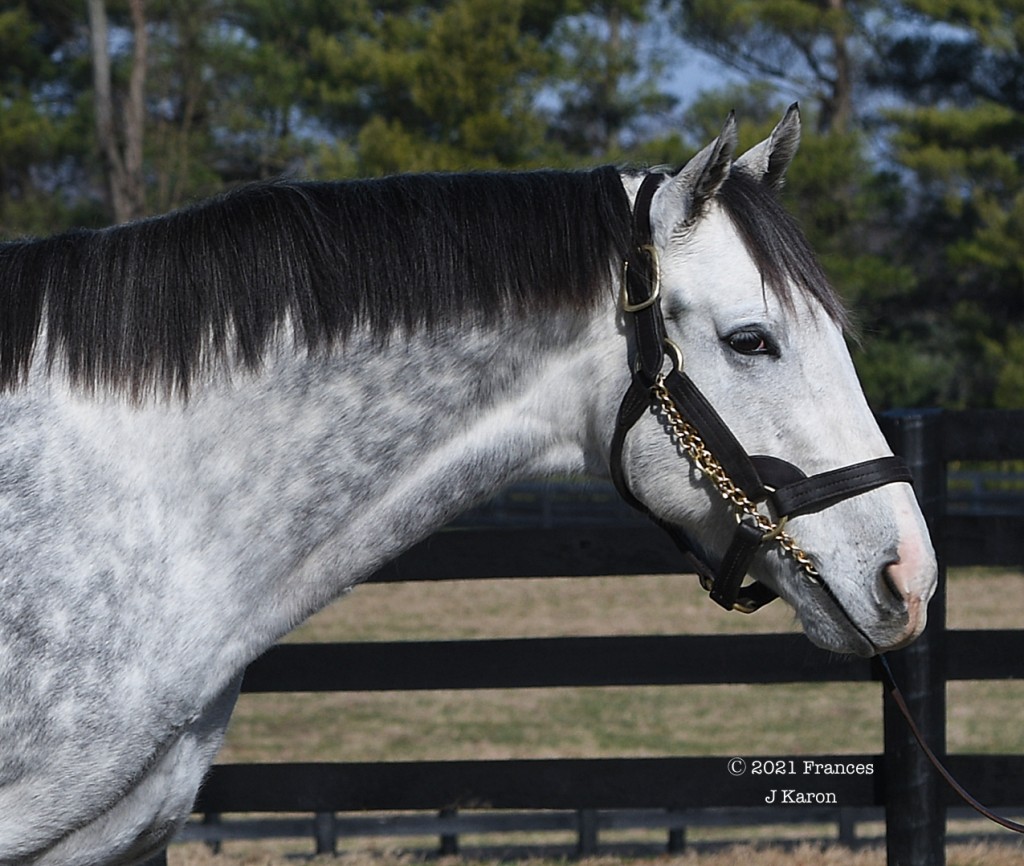 Liam's Map sired a pair of juvenile G1SWs, Basin (Johannesburg) and Wicked Whisper (Bernardini), in his first crop, a great start, but he's done the next big important thing moving forward: at three, that crop was represented by Basin, winner of the G1 Arkansas Derby; Rushie (Colonel John), a G2SW; Wicked Whisper, who won at G3 level; and Listed SW Colonel Liam (Bernardini). Now four, Colonel Liam (a $1.2 million 2yo) opened his 2021 account with a win in the G1 Pegasus World Cup Turf Invitational in January and the G2 Muniz Memorial Classic in March, a week before three of Liam's Map's progeny won stakes races on one card at Gulfstream: 4yo Churn n Burn (Leroidesanimaux) earned his first black type with a victory in the G2 Pan American on the turf, Basin won the Sir Shackleton Stakes and is now a black-type winner in all three of his seasons, and, from Liam's Map's second crop, 3yo filly Crazy Beautiful (Indian Charlie), a G1-placed SW last year, was first in the G2 Gulfstream Park Oaks. We're only in the third month of the year and already their sire has doubled his lifetime tally of GSWs to six. He's also got a pair of Graded-placed runners in 2021, one each from his first and second crops.
If you're interested in nicking trends, as we are, Liam's Map has two G1 winners from mares by Bernardini, plus SW Liam's Pride from a mare by Bernardini's sire A.P. Indy, A+++ crosses. (Sid Fernando wrote about that here in February.) Storm Cat appears through the male line of the sire of either the first or second dams of Basin, Wicked Whisper, and Liam's Pride. Churn n Burn is bred on a C+ nick, but, since nicks are only one of the criteria we consider useful, we included him on our Best of Sale list when he was catalogued at Fasig-Tipton Saratoga, and WTC client Bob Lothenbach purchased him as a yearling.
The familiar story is that Liam's Map has less 2yos, with 85, than in years past, so he has less chances to impress, but as his progeny are improving with age, he should stay relevant on the sire list and in the court of popular opinion. He himself was only a minor SW at three for owner Teresa Viola Racing Stables and West Point Thoroughbreds and trainer Todd Pletcher before blossoming into the winner of the G1 Woodward and Breeders' Cup Dirt Mile at four, retiring to Lane's End with a record of six wins and two seconds, including the G1 Whitney, in eight starts. He is also likely to reap some benefits from the success of his half-brother Not This Time (Giant's Causeway), who after one crop of 2yos headlined by G1SW Princess Noor now stands for $40,000 at Taylor Made.
The current appreciation for Liam's Map is evident in the sale prices of the first 2yos-in-training sale of 2021, where his three to sell at OBS earlier this month brought prices of $525,000 (for a $55,000 yearling), $335,000 ($45,000 yearling RNA), and $200,000 ($125,000 yearling).
If you're a fan of Unbridled's Song and his most exciting son, Juddmonte's champion Arrogate, who was also unraced at two but was a G1SW at three (Breeders' Cup Classic and Travers) and four (Dubai World Cup and Pegasus World Cup), there's legitimate hope now that the sire line will thrive through at least two sons. Although Arrogate will only be represented by three crops, we have Liam's Map to continue to make a name for his sire's male line, as Constitution is doing for Tapit, for the immediate future.