By Frances J. Karon
Whether you believe in nicks or not, it's impossible to look at a cross that has produced 18% black type winners to foals and say that there's not something going on that particular formula, and Navratilova, winner of the Tepin Stakes – the final race of Churchill's spring meet, which ended on Saturday – is bred on one such pattern.
When the 3yo dug in to earn her first black-type win, she became the 153 stakes winner sired by Medaglia d'Oro (El Prado), and his fifth from a Smart Strike (Mr. Prospector) mare. Bred to daughters of Smart Strike, the resulting progeny have more than doubled Medaglia d'Oro's overall stakes-winners-to-foals percentage and more than tripled Smart Strike's overall broodmare sire percentage. This is a pretty significant boost, even for a sire like Medaglia d'Oro who already has a good enough percentage of stakes winners that he stands at Darley for $150,000, among the highest stud fees in the US this year.
Navratilova joins G3SWs Golden Sabre, Marzo, and Yahilwa plus SW Altaf bred on the same cross. All five are out of different mares, too. Plus, Navratilova is one of at least 25 SWs sired either by Medaglia d'Oro or one of his sons from a mare that has at least one strain of Nureyev, doubling up on the Special family.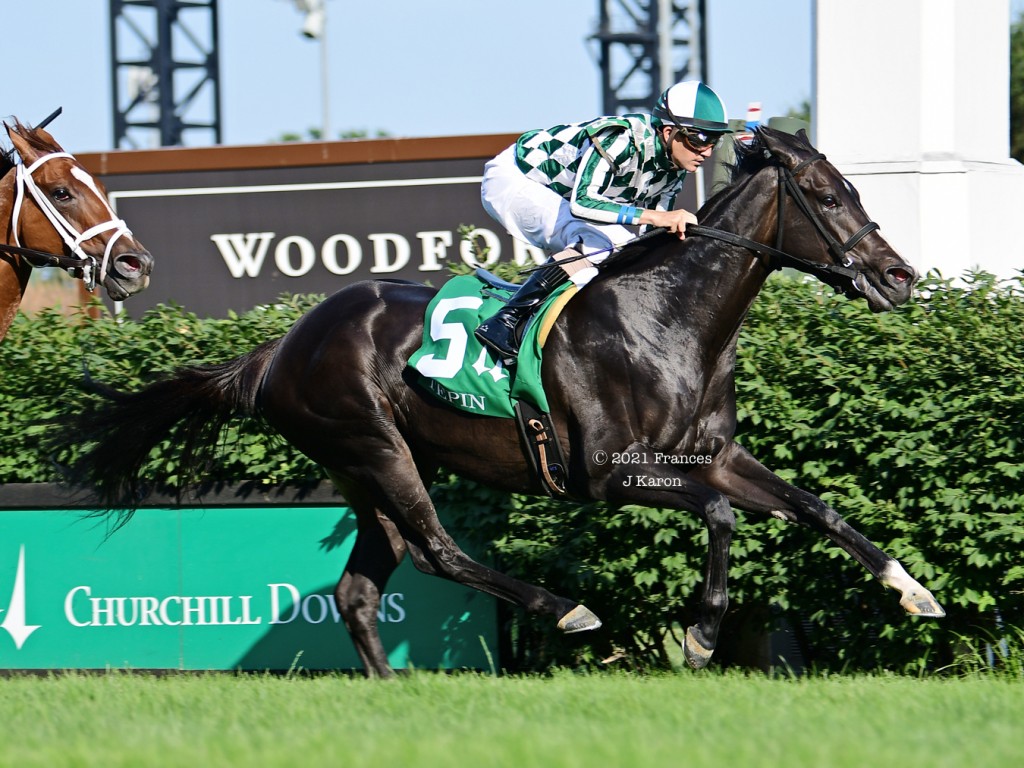 But what makes the story of Navratilova is not just the good cross of her pedigree, but of a good cross, too, of the two key people involved, owner and trainer, for more than a quarter of a century.
In 1996, G. Watts Humphrey Jr. purchased a yearling at the Keeneland July sale for $350,000. The filly bred by Hudson Interests Ltd. & W.S. Kilroy was from the second crop of the unproven A.P. Indy and was the second foal out of the very, very minor stakes-placed Nureyev mare Net Dancer, who'd been a $1.2 million Keeneland November yearling in 1989. A granddaughter of Fabuleux Jane — half-sister to Ajdal, and ancestress of Arazi and Noverre — Net Dancer's second-place finish in the Old Hat Handicap at Detroit earned her a line of black-type and helped push her earnings to just over $46,000.
Humphrey sent his A.P. Indy filly, named Let, to trainer Rusty Arnold, and, racing from two to four, she won seven of 22 starts. Her four stakes wins were led by the G2 Churchill Downs Distaff Handicap, and she was multiple Graded stakes-placed, including a second in the G1 Ashland, and she earned more than $600,000.
The dam of 11 foals for the Humphreys, Let produced G3SW Ravel (Fusaichi Pegasus), a $950,000 yearling, and After Thought (Fusaichi Pegasus), a winner who produced a pair of black-type winners in the Humphrey silks — Annulment (Broken Vow) and Youngest Daughter (The Factor), both of whom were trained by Humphrey's daughter Vicky Oliver, and both had their first foals, colts by Twirling Candy and Catholic Boy, respectively, in 2021.
Let's best foal was Centre Court (Smart Strike). Centre Court won the G1 Jenny Wiley at Keeneland, plus three G2s — one each at Churchill, Saratoga, and Gulfstream — and a G3. Rusty Arnold, who'd trained Let, trained Centre Court, too.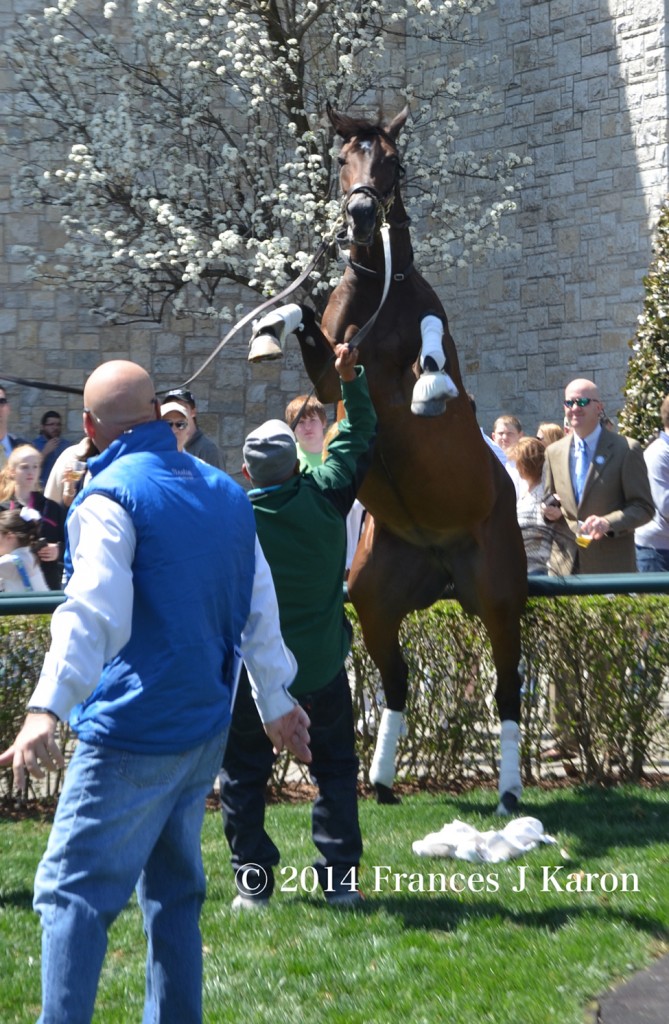 Cue Navratilova, who not surprisingly is trained for Humphrey by Rusty Arnold, and she's now a third-generation black-type-winning filly Rusty Arnold has sent out in the white-and-green diamond-patterned Humphrey silks, and we think that combination makes for a pretty good nick, too. In a few years' time, Navratilova will need to produce a SW as a broodmare for owner and trainer to complete four generations, and creating their own version of a Grand Slam that began with Let.
Arnold and Humphrey also joined up for G1SWs Clear Mandate, Romantic Vision, and Victory Ride; G2SWs Dream Scheme and One Caroline; and G3SWs Communique, El Crespo, Final Round, Ice Cream Silence, Morticia (co-bred and co-owned by Arnold), and Rey de Cafe. Most of these were homebreds, either solely, in partnership with Humphrey's aunt Pamela Firmin, or others, and it began with Clear Mandate, who gave the trainer his first Graded win for the owner in 1995.
(GSWs Personal Diary, Frivolous, She's Not Here, and Direct Line, all owned or co-owned by Humphrey, were trained by Oliver.)
Humphrey co-bred but did not race Belmont Stakes winner Creme Fraiche with his aunt, Pamela Firmin, and, with Will Farish, G1 Breeders' Cup Distaff winner Sacahuista; his wife Sally, as Mrs. G. Watts Humphrey Jr, bred Kentucky Derby winner Genuine Risk. All three of these were sold as yearlings.
Navratilova has a way to go yet to be among the better horses bred and/or raced by Humphrey (or to be one of the better fillies sired by Medaglia d'Oro), but it has to feel pretty special to win a stakes race with a filly whose dam and granddam were also stakes winners for him. Outside of the type of operations like Juddmonte, the Aga Khan, and the Phipps family, it's not something we see much of these days, especially not in the US, and it's becoming more rare.
A footnote that may be of interest to some folks is that in 2018, Centre Court was featured on the first season of Foal Patrol, and fans were able to watch Navratilova from birth at her at her owner's Shawnee Farm until she was about seven months old, with occasional updates thereafter. She is, I believe, the first stakes winner of all the Foal Patrol babies.
Centre Court has a 2yo filly, Preempt, from the first crop by Arrogate, a yearling colt by Bernardini, and a suckling full sister to Navratilova. Net, a three-parts sister to Centre Court by Curlin (Smart Strike), has her first foal this year, a son of Fast Anna (Medaglia d'Oro), which is the Medaglia d'Oro/Smart Strike cross, one generation removed, responsible for Navratilova.