By Frances J. Karon
If the popularity of any stallion in recent memory has run the gamut more than Runhappy, I can't think who it could be. Early on in his racing days he was a "feel good story," from his 8 1/2-length maiden win at Turfway Park just after Christmas in his only start at two, to his championship 3yo season in which he won the last six of his seven starts: a pair of allowance/optional claimers in July at Indiana Grand and Ellis Park, the G1 King's Bishop at Saratoga, the G3 Phoenix at Keeneland, the G1 Breeders' Cup Sprint (also at Keeneland), and the G1 Malibu at Santa Anita, nearly 365 days after his debut.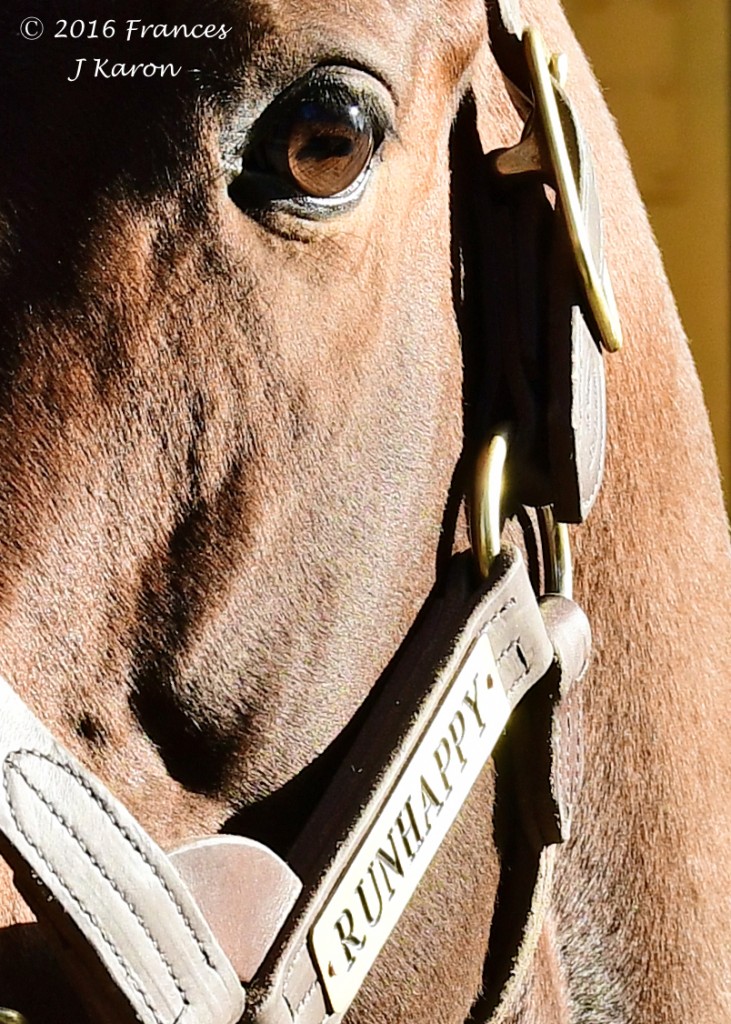 But in the court of public opinion, Runhappy, through no fault of his own, suffered a downfall in the immediate aftermath of his Breeders' Cup victory. As the drama played out, Runhappy won the Malibu two months after the Breeders' Cup and ended 2015 having done enough to earn the Eclipse Award as champion sprinter. He had a quiet 4yo season, with an October start due to injury, and those two unplaced runs were quietly the end of his career.
Retired to Claiborne, the son of Super Saver and Bella Jolie (Broken Vow), who had cost Jim McIngvale $200,000 as a Keeneland September yearling from the consignment of breeder Wayne, Gray, and Bryan Lyster's Ashview Farm, earned in excess of $1.4 million. His initial stud fee was $25,000, and McIngvale was very much committed to supporting his stallion, who has been proudly advertised as having raced "100% Medication-Free." And the ads and marketing, yes…"Runhappy" has sponsored the Travers, Hopeful, Metropolitan, and more races than I can list off the top of my head.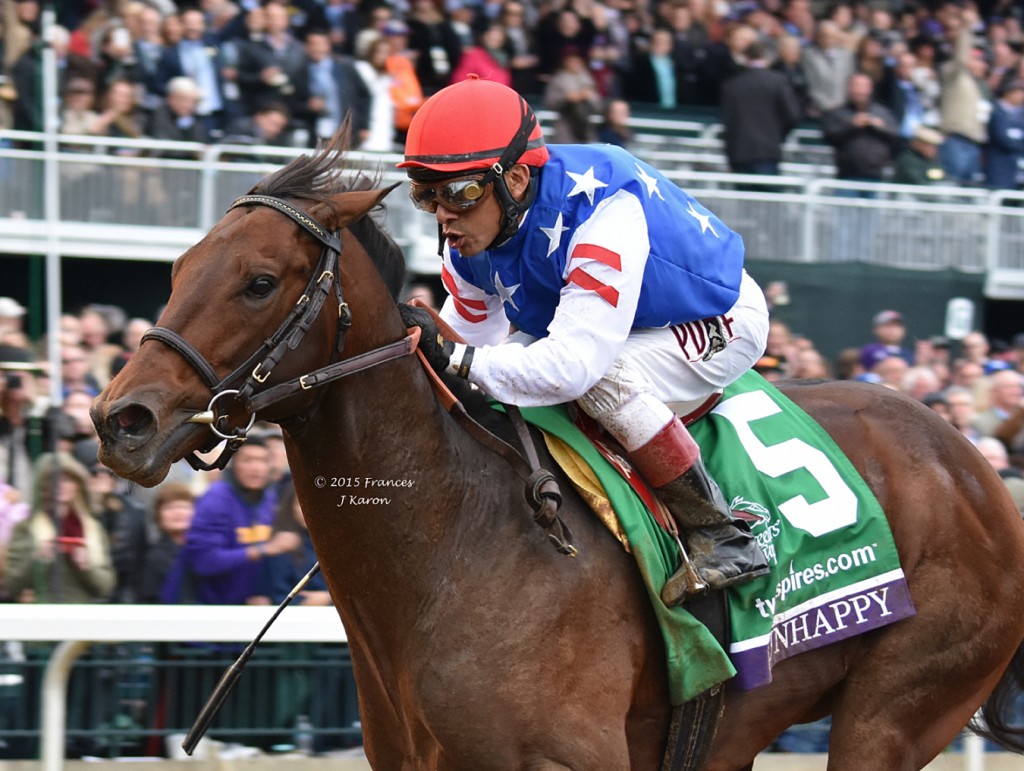 Runhappy — who, remember, didn't start until December 28th of his 2yo season — was slow out of the starting blocks as a sire in a year when months of racing were lost due to COVID-19 closures and shutdowns. His first winner, Libertyrun, came on July 8th, and that colt died a month later when sustaining an injury in the Runhappy Juvenile Stakes at Ellis Park. From July until the end of the season, Runhappy added eight more for a total of nine first-crop 2yo winners, which put him 14th in that category among his peers standing in North America but 20 individual winners behind leader Not This Time. Worse, he had no black-type horses. His stud fee, which had stayed at $25,000 from 2017 through 2020 inclusive, went down to $10,000 in 2021.
Not surprisingly, Runhappy's sales horses from Year One to Year Two took a huge nosedive: the yearling average was down from $225,625 to $39,524, and the median down from $200,000 to $25,000. 
But with his oldest foals now three — the age at which Runhappy blossomed — his runners have finally begun to show their stuff. Runway Magic (dam by A.P. Indy) hit the board in a stakes race in January, and Nicky the Vest (Cat Thief) won the Gander Stakes at Aqueduct in February. More stakes horses followed: Joyful Cadence (Forestry), whose black-type-placings include the G3 Miss Preakness; and Drivehappy (Forestry). Following Sea (Speightstown) won a maiden race at Oaklawn impressively (over fellow Runhappy son Happymac, who won his next out, also a maiden special at Oaklawn, by 10 1/4 lenghts), which he backed up with an even more impressive allowance win at Belmont on Thursday of Belmont Stakes week. Following Sea's two wins have been by more than a combined 12 lengths, and based on his performances, he has every right to become a GSW in the near future based on the gaudy speed figures that he's earned.
So, Runhappy's now got 27 winners so far from his first crop. And perhaps more importantly, his second crop of 2yos has already yielded a stakes winner: Happy Soul (Stephen Got Even, by A.P. Indy), an eye-popping winner of the Astoria Stakes on the same card as Following Sea's big allowance victory. She's her sire's only 2yo winner of the year, and her first win — at Belmont in May — was almost two months earlier than Runhappy's first 2yo winner the previous year. (She'd finished second in her first start, on a muddy track at Keeneland in April against colts; the stablemate who beat her, Nakatomi, by Firing Line, is expected to run at Royal Ascot.)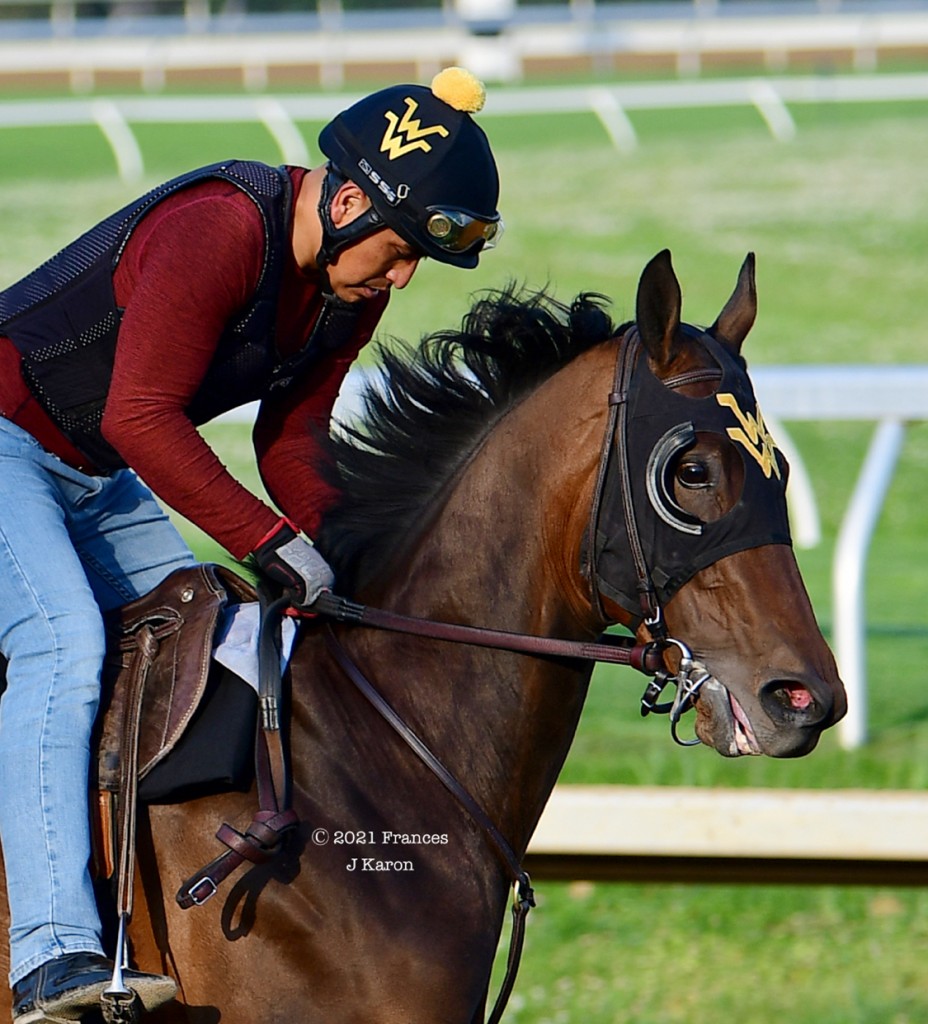 The Runhappy marketing machine has never slowed down. McIngvale, who purchased many of Runhappy's first-crop yearlings and some from his second crop as well, sweetened the pot with $100,000 owner incentives for the first 2yos in maiden specials at selected A-level tracks. This year, for a week (May 7th – 14th) last month, "Mattress Mack" threw in a Tempur-Pedic mattress valued at up to $5,000 to anyone who signed a $10,000 live foal/stands and nurses contract within that timeframe and whose named mare on that contract is in foal to Runhappy at the 60-day mark.
Claiborne, a farm that limits book sizes to figures below that of many other farms, has done a heckuva job keeping the stream of mares to Runhappy at a steady figure: in 2017, he covered 127 mares; in 2018, 128 mares; in 2019, 127 mares; and in 2020, 129 mares.
I don't know how many mares the stallion will have bred by the end of this covering season but I expect it will be a similar number as it has been. If that's the case, unlike the young sires whose careers follow the flow and ebb dictated by the commercial market and who are often represented by small later crops as people take a "wait and see" approach, Runhappy, despite his slow start that, had he been standing elsewhere might have seen him get moved along to a regional market or foreign country by now, will continue to have a steady number of foals to represent him each crop, and as long as they continue to run as they are now, he will be his own best marketing tool before too long.
At the OBS sale in April, a 2yo by Runhappy was bought by Donato Lanni on behalf of Frank Fletcher Racing for $490,000 – a price higher than any of Runhappy's first-crop 2yos sold for. It's just another sign that the people who matter most never lost faith in the young sire.
Runhappy's sire Super Saver, who started out in spectacular form in his freshman season before falling from grace and going to Turkey, is having a resurgence of his own: Letruska (I wrote about her here after the Apple Blossom) has early season designs on the Eclipse for champion older female, with two Grade 1 wins including the Ogden Phipps on the Belmont undercard; Happy Saver, an undefeated, lightly raced colt who won the G1 Jockey Club Gold Cup last October, had an easy time winning his 4yo debut at the end of May; and 2yo Landsowne, a half-brother to G1 winner Midnight Lucky, recently won a msw at Churchill and looks as if he could be a nice horse.