By Frances J. Karon
Almost 22 years ago, on March 3, 1999, Bob Lothenbach dropped a claim for a 3yo daughter of Valid Appeal (In Reality) at Gulfstream. The filly, in for $40,000, was second that day, taking her record to two wins, two seconds, and two thirds in eight starts, and Lothenbach sent her — Appealing Storm — to Hawthorne in Illinois, where Hector Magana saddled her to fourth-, sixth-, seventh-, and sixth-place efforts in allowance company before her final start, a $25,000 claimer in November in which she earned a DNF for bearing out on the turn.
It was not an auspicious beginning for Appealing Storm and Lothenbach Stables, but she was retained as a broodmare, where she made amends many times over.
Although there was not yet any black-type under her dam Storm o' Fire (Storm Bird) — later, two of Appealing Storm's full sisters each foaled a minor SW — she did have some pedigree under her second dam Image Intensifier (Dancer's Image). Image Intensifer had produced G3SW Alabama Nana (Thatching) and minor SW Toooverprime (Red Alert), but far more importantly, she was the granddam of 1995 champion 3yo filly Serena's Song (Rahy).
A week after Appealing Storm's first foal, a Dynaformer filly, was born in 2001, Serena's Song's first foal, the 3yo Mr. Prospector filly Serena's Tune, won the Listed La Habra Stakes, and by the end of that same year, 2yo Sophisticat (Storm Cat) — Serena's Song's second foal — was multiple Group-placed in Europe. Sophisticat went on to become a G1SW at three, and was immediately followed by three other black-type horses from Serena's Song, including G2SW Grand Reward (Storm Cat) and G2SW Harlington (Unbridled). Long story short, Serena's Song is an elite broodmare, as the dam of six SWs, of which four were GSWs. She's also the great-granddam of G1SW Honor Code (A.P. Indy).
Of course, any comparison at the time of Appealing Storm and Serena's Song other than to say both were granddaughters of Image Intensifier would have been a bit silly. And yet over the weekend, with Captivating Moon's 43-1 win in the nine-furlong, G3 Fair Grounds Stakes over the turf at Fair Grounds, Appealing Storm became the dam of four GSWs (from five overall SWs), emulating Serena's Song.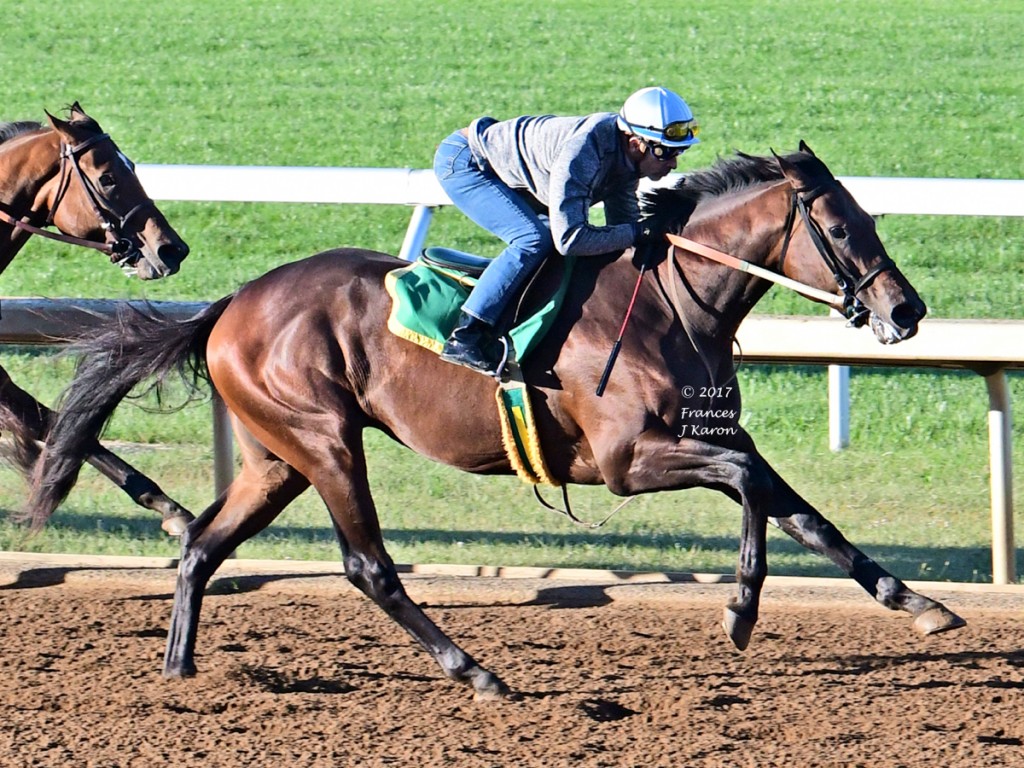 Trained by Chris Block — a longtime trainer for Lothenbach, as is Neil Pessin — Captivating Moon, a son of Malibu Moon, has five wins and 13 placings in 29 starts, earning black-type every year from two to six, with 13 black-type lines. The Fair Grounds Stakes was just his second stakes win, however, after the 2019 Buddy Diliberto Memorial Stakes, also at Fair Grounds. He's the 51st GSW, of 126 total SWs, sired by Malibu Moon (A.P. Indy), and the second, after G1SW Ask the Moon, produced from a Valid Appeal mare. Valid Appeal features in Malibu Moon's GSWs Freedom Child and Emilia's Moon as well. A.P. Indy-line sires over Valid Appeal-line mares is a successful nick, responsible for such as Classic winner Tapwrit (Tapit) and other GSWs Jeltrin (Tapizar), Miss Behaviour (Jump Start), and Captivating Moon's G3-winning half-sister Single Solution (Flatter). Malibu Moon's G1SW Come Dancing is similarly bred, too, from an In Reality-line mare. Malibu Moon also has an affinity, often but as in this case not always through Storm Cat, for Storm Bird, the sire of Storm o' Fire.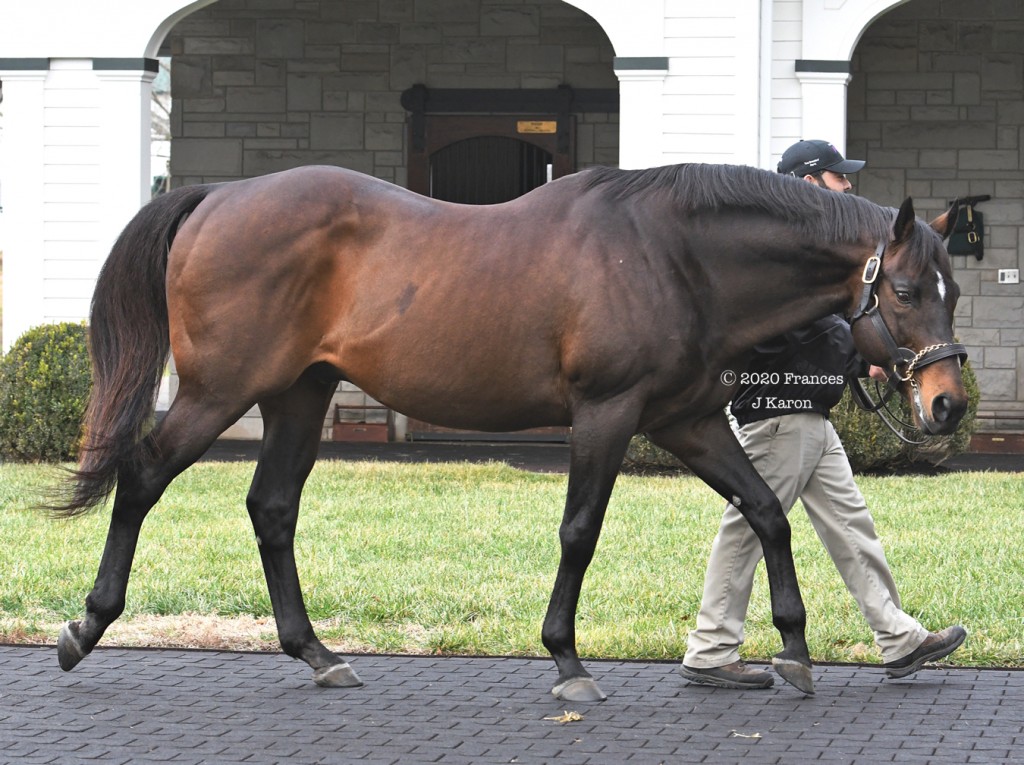 Malibu Moon, a lightly raced homebred for B. Wayne Hughes of Spendthrift, where he stands for $35,000 this season, is represented by the likes of Kentucky Derby winner Orb, Eclipse champion 2yo male Declan's Moon, and Sovereign champion sprinter Moonlit Promise. He's sired just six GSWs on turf, and it makes sense that Captivating Moon would be one of them, as all four of his SW half-siblings performed on the surface. The first, Vacare (Lear Fan), won, among other races, the G1 Queen Elizabeth II Challenge Cup at Keeneland and was sold by Lothenbach through Drew Nardiello's Chesapeake for $2.8 million as a 3yo racing/broodmare prospect at the 2006 Fasig-Tipton November sale; Abtaal (Rock Hard Ten), a $325,000 Fasig-Tipton Saratoga yearling, won the G3 Prix Thomas Bryon at Saint-Cloud in France; Single Solution ran as a Lothenbach homebred and won the G3 Pin Oak Valley View at Keeneland, and she's the dam of SW No Fault of Mine (Blame), who is G2- and G3-placed; and Nobody's Fault (Blame), who raced for Lothenbach and won the Unbridled Sidney Overnight Stakes at Churchill and was placed at G3 level.
Notice, too, that while all five of Appealing Storm's black-type winners are by different sires, three (four if you count Appealing Storm's SW granddaughter) are from the Roberto sireline — Vacare, by Lear Fan, by Roberto; Abtaal, by Rock Hard Ten, by Kris S., by Roberto; and Nobody's Fault, by Blame, by Arch, by Kris S. — and the other two, Captivating Moon and Single Solution, are by sons of A.P. Indy.
Her four GSWs elevate Appealing Storm above Unlimited Pleasure (dam of three GSWs), making her the best producing daughter of Valid Appeal, broodmare sire of 135 SWs (41 GSWs).
Appealing Storm passed away at the age of 24 in 2020. Her last foal, a winning full sister to Captivating Moon named Appealing Audrey, was born in 2016, so the book has closed on her immediate broodmare career, but Lothenbach still owns many of her 11 daughters and odds are lower than 43-1 that his $40,000 claim will continue to pay dividends down the line.