By Frances J. Karon
Back in October of 2018, Knicks Go lit up the board when he won the G1 Claiborne Breeders' Futurity by 5 1/2 lengths, paying $142. He followed that up with a runner-up finish to subsequent 2yo champion Game Winner in the Gl Breeders' Cup Juvenile. But over the course of the next 12 months, Knicks Go made nine starts without a win, earning two seconds and a couple of fourths. His owner, the Korea Racing Authority, switched Knicks Go from the barn of Ben Colebrook to Brad Cox after a 10th-place effort in a G3 on turf at Churchill in November, 2019. Knicks Go has been undefeated since the move, having won an allowance optional claimer at Oaklawn, an allowance optional claimer at Keeneland, the G1 Breeders' Cup Dirt Mile at Keeneland last November, and, this weekend as a newly turned 5yo, the G1 Pegasus World Cup Invitational, taking his earnings above $3 million. He'd been bought for just $87,000 as a yearling, slightly more than double the $40,000 his breeder Angie Moore sold him for as a foal.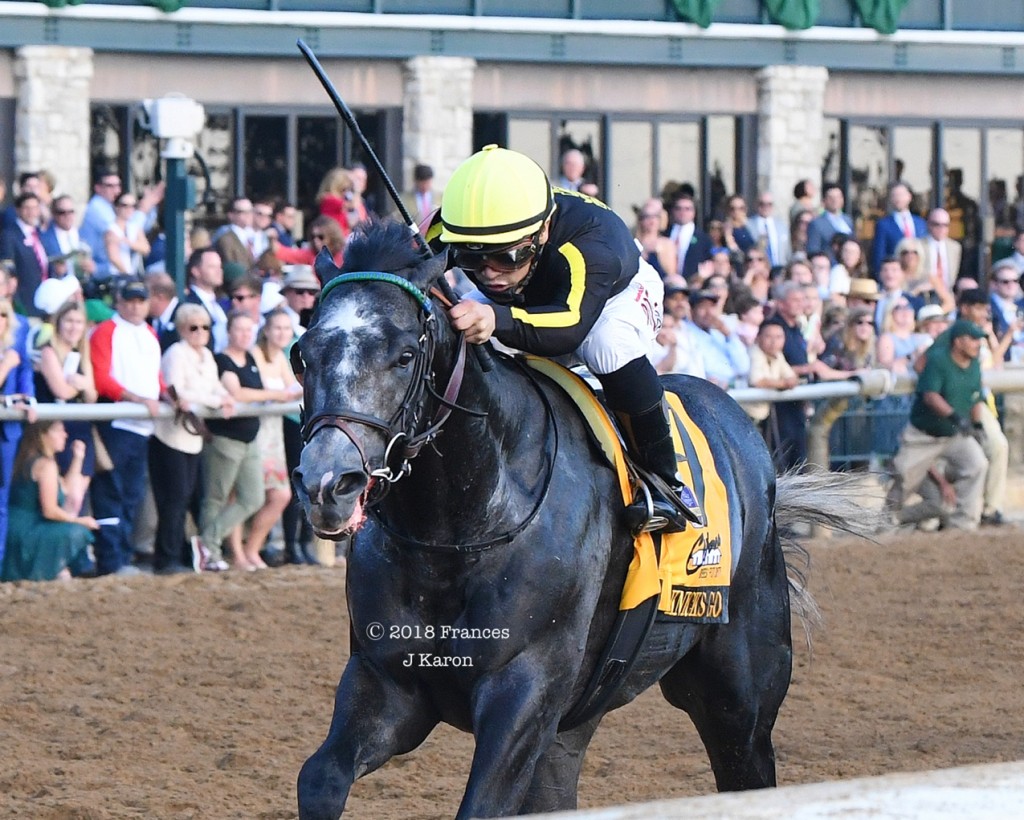 Knicks Go is the only G1SW for his sire, Paynter. Trained by Bob Baffert, Paynter was unraced at two, won the G1 Haskell and ran second in the Belmont at three in 2012, but he's more well-known for his death-defying survival of colitis and laminitis after the Haskell, and for miraculously coming back as a 4yo to win an allowance race and run second in a G1 and a G2. He was retired to WinStar for the 2014 season, covering mares for $25,000 for his first two years, then down to $20,000 in 2016 and 2017, $12,500 in 2018, $10,000 in 2020, and finally, $7,500 this year. The decline in stud fee is not an unusual pattern in young sires, and it's a direct reflection of Paynter's record of just four GSWs from four crops of racing age (not counting 2yos of 2021).
Paynter has a year-younger three-parts brother in Oxbow. Both are by Awesome Again out of full sisters to Horse of the Year Tiznow. The winner of the Preakness, Oxbow was, like Paynter, second in the Belmont, and he too has four crops of racing age, with two GSWs. The pair have had similar stud-fee trajectories. Oxbow's stud fee history is: $20,000 in 2014; $17,500 in 2015 and 2016; $20,000 in 2017 and 2018; $15,000 in 2019; $10,000 in 2020; and $7,500, the same as Paynter, in 2021.
The closely related stallions have been met with different results in the breeding shed. Paynter's 16 SWs (4% to foals) are out of mares from all kinds of different sire lines, with just A.P. Indy (through two different sons) and Carson City (once through Carson City and once through son City Zip) appearing as the damsire line of more than one SW. Oxbow's 5 SWs (1%) include four out of A.P. Indy-line mares: one from a daughter of A.P. Indy and three from daughters of Tapit. Oxbow also has a good number of stakes-placed horses, including 2021 G3-placed Blackberry Wine, from A.P. Indy-line mares.
Now, Oxbow is owned by Brad Kelley's Calumet Farm, and Calumet has an especially huge collection of A.P. Indy-line mares, so this is a formula that has likely been tried a lot more with Oxbow than with Paynter. Oxbow has 61 foals from A.P. Indy mares and 54 from Tapit mares, accounting for 115 of his 449 foals of racing age. Paynter's 417 foals include five out of A.P. Indy mares and none from daughters of Tapit. These figures don't include foals produced from other A.P. Indy-line sires, but it's enough to get the general picture of why Paynter has only two SWs out of A.P. Indy-line mares. On the flip side concerning Oxbow, it means that there's been far less diverse of a gene pool for the Calumet sire, limiting his chances of getting good runners bred on other crosses.
One explanation for the A.P. Indy affinity, which is also shared by Tiznow — the dual Breeders' Cup Classic-winning full brother to the dams of Paynter and Oxbow — is that Cee's Song, who's the dam of the three siblings in question, is a daughter of Seattle Song, by Seattle Slew, which of course means that all of the SWs above have at least two strains of Seattle Slew, the sire of A.P. Indy.
But there's something else. By now, you may be wondering what all of this has to do with Knicks Go, whose dam Kosmo's Buddy is not by A.P. Indy but rather by Outflanker, a son of Danzig. Knicks Go is bred on an F eNick (based on Awesome Again over Danzig). He's the only Graded stakes winner under his first three dams, although his dam, who's produced one black-type horse from six foals of racing age, won two stakes races and placed in 12 other stakes. And likewise, he is the sole G1SW on the Awesome Again/Danzig cross, which is represented by seven other GSWs, including two in South America and one in Italy.
Outflanker — who made 10 starts in Europe, never won a race, sired 21 SWs (mostly of restricted Maryland-bred races), and is broodmare sire of two GSWs (the other is G3SW Madman Diaries, by Bring the Heat) from a total of nine SWs — does have a connection to A.P. Indy, and maybe it's the reason why an F nick has produced such a good racehorse in Knicks Go. Outflanker is a grandson of blue hen mare Lassie Dear (Buckpasser), who is also granddam of A.P. Indy, so there could be more to Cee's Song's family's success with A.P. Indy than Seattle Slew inbreeding (or a duplication of the siblings Relaunch and Moon Glitter that we see when A.P. Indy's grandson Tapit is introduced on the bottom). Would we see a definitive affinity with Lassie Dear if more mares carrying other strains of that mare were bred to Oxbow and Paynter? The Awesome Again line already has G3SWs Awesomemundoout of a mare by Outflanker's half-brother Shuailaan (Roberto) and Angel Terrace, whose second dam is by A.P. Indy's half-brother Summer Squall.
One last thing to note is that Knicks Go is named for the "K Nicks" system — "K" for Korea — used by his owner. Not much is known about how it works, but they used it to identify Knicks Go as a potential superhorse when they purchased him.
What's important to always remember is that nicks — the measurement of success between the sire line and the broodmare sire line — are just one tool in evaluating pedigrees. We at WTC have often recommended matings with unfavorable grades — yes, even F — because there are other factors at play. It would be foolish to dismiss a pedigree based solely on a nick rating if there are other things to like, just as it's foolish to dismiss nicks as one part of what makes a good horse a good horse.