By Frances J. Karon
In April, I wrote about how the pandemic might affect first-crop sires, and now that 2020 is behind us, I'm revisiting the topic to see how they did. I originally focused only on North American-based sires and am doing the same in this follow-up.
The references used below are the TDN's leading first-crop sires lists from 2014 — older lists aren't readily available — to 2020. (Note: I edited out Lonhro from the 2015 list, as he was already a well-established sire in Australia by the time he had first Northern Hemisphere 2yos.)
With the cancellation of so many early 2yo races, I speculated back in April that it would take less year-end winners than we've seen recently to head that category, guessing that 20 individual winners or less might be enough. But thanks to the precocious talents imparted by Not This Time — a brilliant 2yo himself — that prediction was wrong, as the son of Giant's Causeway ended the season with 28 winners. Twenty-eight would have tied Not This Time with leading freshman sire Uncle Mo in 2015, and it would have been enough to put him ahead in 2019, when American Pharoah, Constitution, and Tapiture shared a three-way tie with 27 winners each.
Looking at how the other freshman sires fared, Not This Time's prolific year winners-wise stands out as an anomaly. In 2019, there were seven sires with at least 20 individual winners, while only Not This Time reached that pinnacle in 2020. Immediately behind him rounding out the top 10 spots (13 sires) by winners last year are Outwork and Upstart (19); Air Force Blue and Nyquist (17); Frosted (16); Speightster (15); Exaggerator and Cinco Charlie (14); Laoban, Mshawish, Tourist, and Vancouver (13). Cinco Charlie, Mshawish, and Tourist don't feature among the leaders by earnings, so my numbers from this point on don't include those stallions.
Here are the top 10 freshman sires in 2020 by earnings:
1. Nyquist (by Uncle Mo; stands at Darley)
2. Laoban (Uncle Mo; stood at Sequel in NY and is new to WinStar for 2021)
3. Not This Time (Giant's Causeway; Taylor Made)
4. Outwork (Uncle Mo; WinStar)
5. Frosted (Tapit; Darley)
6. Upstart (Flatter; Airdrie)
7. Air Force Blue (War Front; Ashford/Coolmore America)
8. Speightster (Speightstown; WinStar)
9. Exaggerator (Curlin; WinStar)
10. Vancouver (Medaglia d'Oro; Ashford/Coolmore America shuttle sire who hasn't returned for this year) — as an FYI, he is not included on The BloodHorse's first-crop sires list because his first foals were born in Australia on Southern Hemisphere time in 2017. Brody's Cause (Giant's Causeway son at Spendthrift), sire of 1 GSW, 2 SWs, and six winners, is tenth at the BloodHorse.
These 10 sires averaged 17.1 winners apiece, with a median of 16.5. In 2019, the leaders averaged 22.7 with median of 24 winners. Refer to the chart below for a year-by-year comparison of average and median number of winners for top 10 freshmen.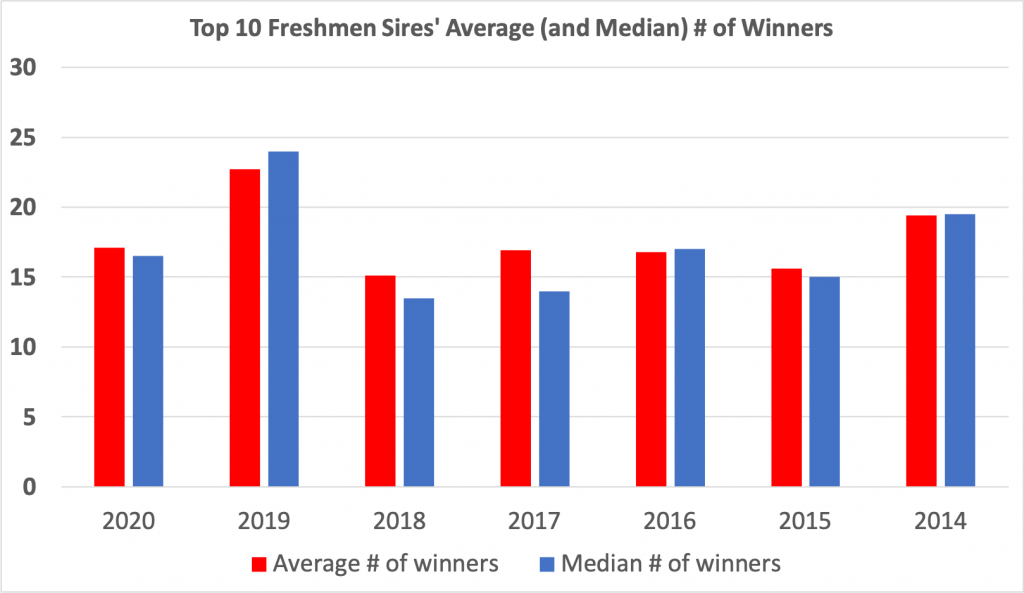 Other points of interest during the 2014—2020 time period are the amount of individual SWs and Graded SWs, so we'll look at that, too.
Year-end freshman leaders by individual SWs:
2020: Laoban (3 SWs)
2019: Constitution (5)
2018: Cross Traffic (5)
2017: Overanalyze and Violence (4)
2016: Dialed In and Union Rags (3)
2015: Uncle Mo (7)
2014: Super Saver (4)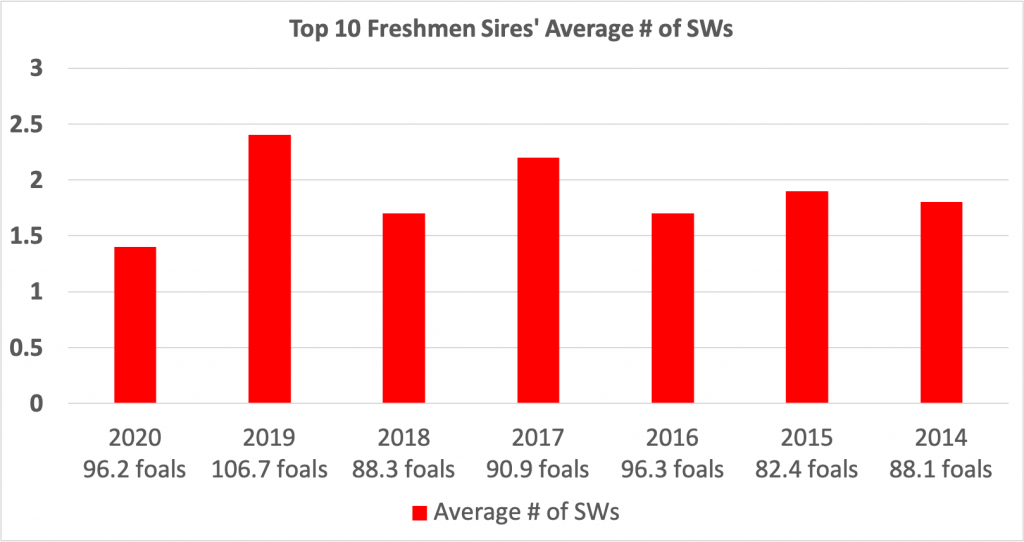 Year-end freshman leaders by individual GSWs:
2020: Laoban and Nyquist (2 GSWs)
2019: Constitution (4)
2018: Cairo Prince, Cross Traffic, and Mucho Macho Man (1)
2017: Animal Kingdom, Jimmy Creed, and Point of Entry (1)
2016: Gemologist and Union Rags (2)
2015: Uncle Mo (3)
2014: Quality Road and Super Saver (2)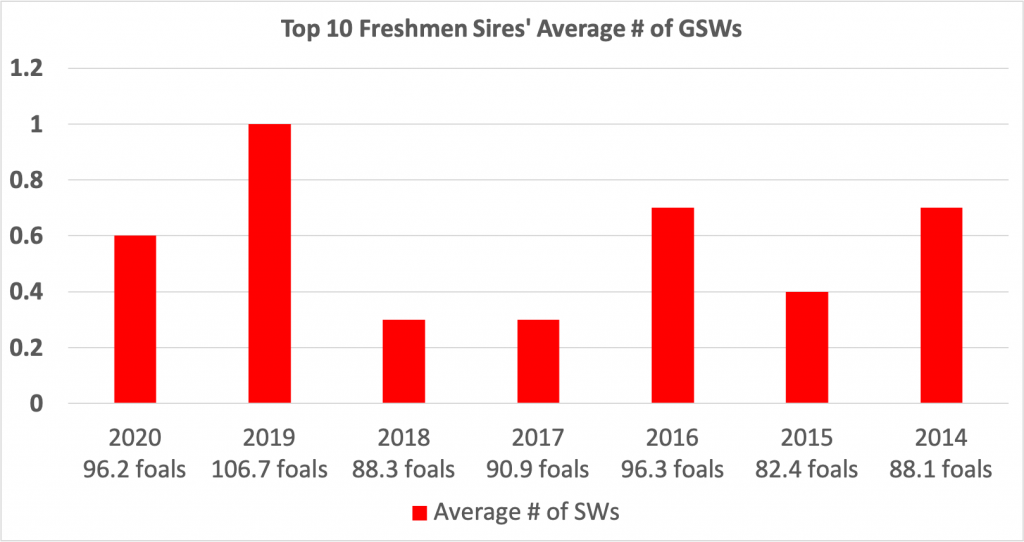 The average earnings for the top 10 sires in 2020 was $1,168,832 per stallion, higher than the average for any year within the seven-year timeframe except 2019 ($1,595,940). Nyquist's $2,424,083 was more than $860,000 ahead of Laoban in second, but it's about $450,000 less than chart-topping American Pharoah had the year before.
I speculated in April that the depletion of early 2yo races would have little effect on freshman sires by the end of the year, that the biggest impact would be on the number of individual winners but quality would hold out. "…While it's clearly a fallacy that good horses can't emerge from these spring races," I wrote, "how will the loss of spring and, potentially, summer racing affect the top of the division by year's end? Though early debuting 2yos can carry off a championship campaign — as Dreaming of Anna and She Be Wild did — the answer is: as long as the horses are able to race, probably not much, because the good ones will sort themselves out."
And it does look like perhaps one, if not more, exceptional sire will emerge, as Nyquist was represented by two G1 winners: the likely Eclipse champion filly Vequist and the likely Sovereign champion male Gretzky the Great. Laoban had two GSWs, and seven other stallions overall had one GSW each, meaning that there were nine individual North American-based freshman sires — four of which are on the top 10 list — with one or more GSWs.
It will be interesting to see The Jockey Club's annual Fact Book when it comes out sometime next month to learn how many 2yo races were held versus previous years, because while surely that did have some effect on the overall numbers for this group of sires, it didn't preclude at least the top ones from achieving comparable stats to other young sires going back to 2014.