By Frances J. Karon
WinStar's Speightstown gained his 112th SW — for the second time — on Saturday when 3yo Shirl's Speight won the G3 Marine on the all-weather at Woodbine, not long after Charlatan, his sire's first 112th SW (9% SWs to foals), was disqualified from his only stakes win in a division of the G1 Arkansas Derby due to a medication positive.
Shirl's Speight is undefeated in two starts, having broken his maiden by eight lengths on the grass at Woodbine on July 4th. Chuck Fipke's 3yo homebred son of Breeders' Cup winner Perfect Shirl is trained by Roger Attfield, as were his dam and her sire, Canadian champion Perfect Soul, both of whom also raced as homebreds for Fipke, a Canadian mineralogist. Fipke is no stranger to Speightstown, having bred and raced that sire's G1SW Jersey Town and SW Munnings Sister.
Lady Shirl, Shirl's Speight's granddam, was an unlikely G1SW sired by multiple G3SW That's a Nice, one of two SWs from 12 foals sired by the rather obscure Hey Good Lookin (by Noholme II, best known as the sire of Nodouble). That's a Nice had more of a chance at stud than his sire, getting 324 foals, of which Illinois-bred Lady Shirl was far and away the best. In a career that lasted for six years and saw her win at least one race per season from two to seven, Lady Shirl made 41 starts, with 18 wins (10 in stakes races), nine seconds, and three thirds. In 1991, her 4yo season, she won the G1 Flower Bowl Handicap at Belmont and the G2 E.P. Taylor at Woodbine, both 10 furlongs on the turf, and the 9 1/2-furlong G3 Modesty over the turf at Arlington. It's also worth noting that although the first few generations of her family were light, Lady Shirl was a direct female-line descendant of the blue hen broodmare La Troienne, her seventh dam.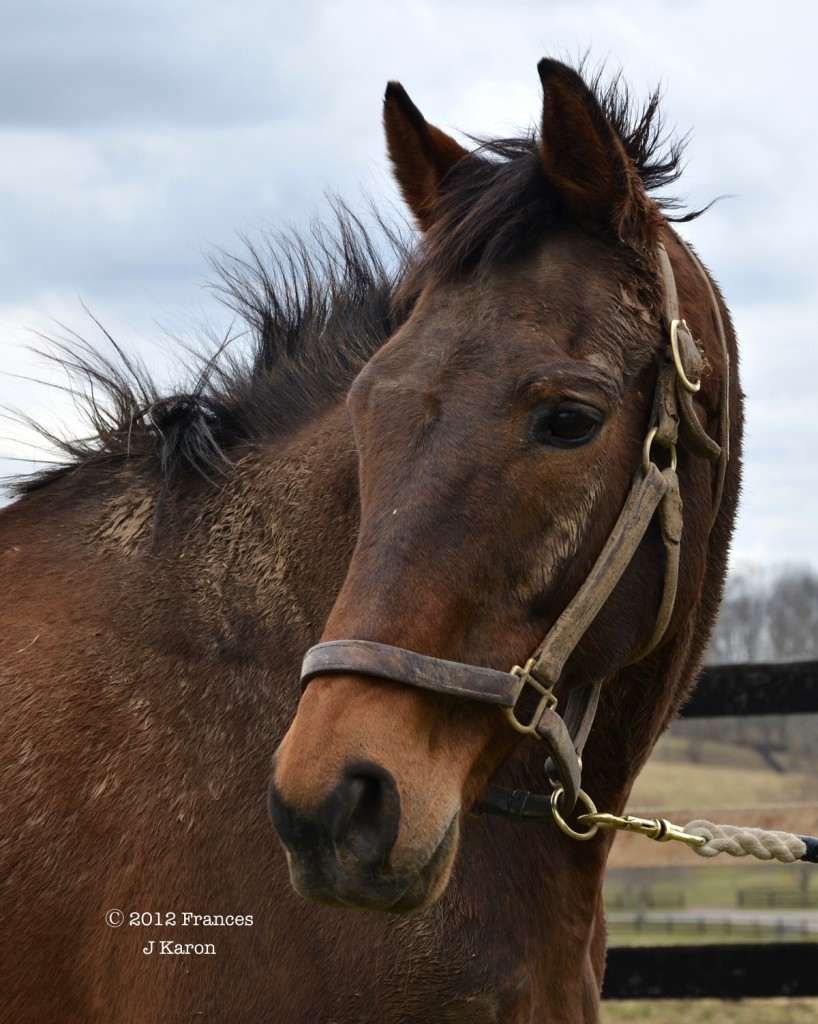 By the time Fipke acquired Lady Shirl at the 2005 Keeneland November sale for $485,000, she was 18 years old and had produced eight foals. Her printed catalogue page showed a stakes-placed runner and an undefeated (in three starts) 4yo, Shakespeare (Theatrical), who was a minor SW. After the catalogue came out but before the sale, Shakespeare won a G2 and a G1, and his dam was offered in foal with his full sibling, a filly later named Lady Shakespeare. Lady Shirl, who lived a long life in retirement at Fipke's farm (turned out with Perfect Soul's dam Ball Chairman), gave Fipke three foals, all fillies: Lady Shakespeare, a G2/G3SW; Perfect Shirl, the G1SW-dam of Shirl's Speight; and Shirl's Soul, an unraced full sister to Perfect Shirl. Lady Shakespeare and Perfect Shirl more than paid back the exorbitant, considering her age, purchase price of their dam, earning just short of a combined $1.9 million.
Perfect Shirl raced from three to five and won just two stakes races, but she made them count, none more so than her $57 win in the 2011 G1 Breeders' Cup Filly and Mare Turf at Churchill on a course rated "good." The previous year, as a 3yo, she'd won the G2 Lake George at Saratoga, also on turf. She had three Graded stakes placings to go with her two Graded wins.
Shirl's Speight is the second winner from five foals, the youngest of which is his 2yo full sister Speightstown Shirl, out of Perfect Shirl. His year-older full brother, Perfect Speighty, has won two of four starts. Their sire and dam were both Breeders' Cup winners, but where Perfect Shirl earned hers over 11 furlongs, Speightstown, a champion sprinter at the age of six, won the 6-furlong Breeders' Cup Sprint, making Shirl's Speight's pedigree a true mixture of speed and stamina.
The Speightstown/Sadler's Wells cross has been very effective, represented also by Competitionofideas-G1 (dam by Medaglia d'Oro, by El Prado, by Sadler's Wells), Rock Fall-G1 (Medaglia d'Oro), She's Happy-G1 (Sadler's Wells), Essence Hit Man-G3 (El Prado), Gallileo's Town-G3 (Galileo), and Strike Power (Medaglia d'Oro). Munnings, a son of Speightstown, has GSWs Free Rose and Barkley on the Sadler's Wells cross (both through El Prado).
What's next for Shirl's Speight has yet to be announced, but knowing Fipke, whatever it is, he'll be aiming high, and from what we've seen so far, chances are very good that the colt will be up to the task. WTC president Sid Fernando, who advises Fipke, said he is nominated to the G2 Pat Day, contested over a mile on the dirt, at Churchill Downs on Derby Day, as well as to the Kentucky Derby itself. "I think Chuck will have a long talk with Roger, and he'll make the decision on which race to go in, if the Derby has less than 20. He views this colt as potentially the best he's bred, and as a home breeder he'd like nothing more than to win the Derby. You know, he's made audibles before that have turned out, like insisting on running Perfect Shirl in the Breeders' Cup when Roger wanted to scratch because of the weather and track condition."