By Frances J. Karon
Shadai Stallion Station's now-deceased Deep Impact has been represented by at least one winner of a Japanese classic race in every crop of 3yos, from Marcellina in the 2011 Oka Sho (1000 Guineas) to Contrail with a double in this year's Satsuki Sho (2000 Guineas) and Tokyo Yushun (Japanese Derby). He will have another two years of full-sized 3yo crops to try to keep that stat intact, plus a small number of foals from the 24 mares he covered in 2019 before he was removed from service and ultimately died.
It could be argued that Deep Impact, who was almost unbeatable on the racecourse in Japan — where he won the Triple Crown and lost only once, in the Arima Kinen as a 3yo to the older Heart's Cry — didn't have much by way of competition in the Japanese stallion ranks. Not that he was the only good sire in Japan, but that he was on another, elite level. It's unsurprising, then, that he was so dominant, with 19 individual winners of 20 classic races — of which there are five, since one leg of the Filly Triple Crown, the Shuka Sho, apparently isn't considered a "classic" — in his home country, in 10 crops of 3yos, among his 158 (or 159, depending on the resource) SWs.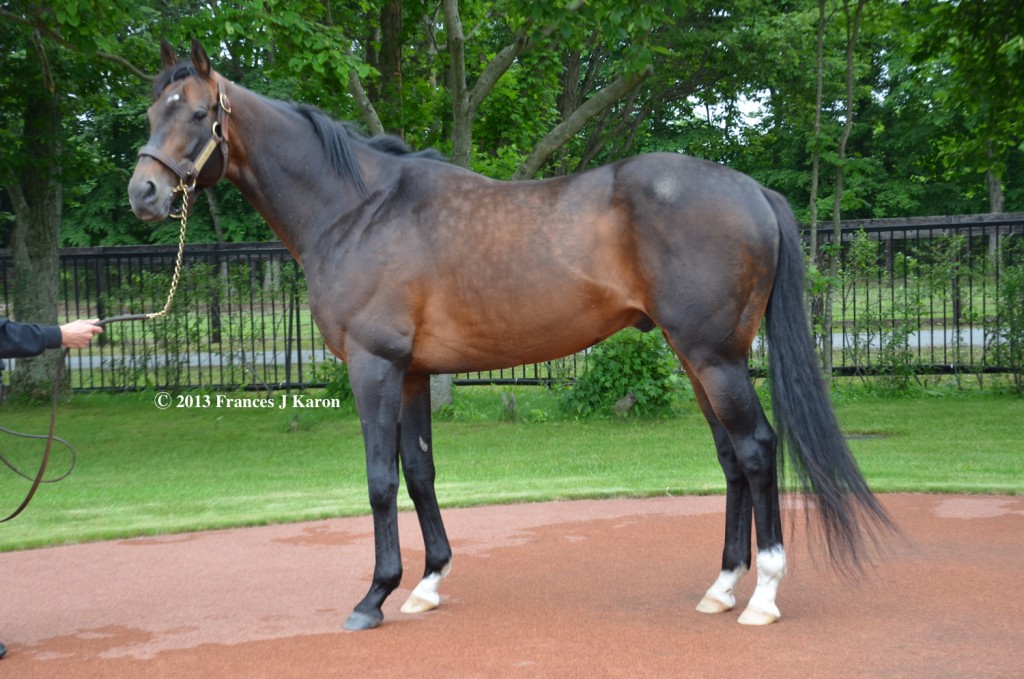 One of the first entities outside of Japan to catch on to Deep Impact was the Wildenstein family's Dayton Investments, who sent their French Listed-winning Giant's Causeway mare Bastet to Deep Impact in his first two seasons at stud. Perhaps the Wildensteins were impressed by what they saw in the son of Sunday Silence and Wind in Her Hair (Alzao) when he travelled to France and ran third — later to be disqualified for a positive drug test— in the 2006 Prix de l'Arc de Triomphe. Whatever the motivation, Bastet was shipped off to the court of Deep Impact in Hokkaido.
Her first foal, Barocci, was a Listed winner and Group 3-placed in France, and he was multiple G2-placed in N.A. The second was the filly Beauty Parlour, who supplied her sire with a European classic win in the 2012 Poule d'Essai des Pouliches for trainer Elie Lellouche. It was, I believe, the first time a Japanese-based stallion was responsible for the winner of a European classic race, although since Bastet had been sent to Ireland with Beauty Parlour in utero, she did not have the (Jpn) suffix attached to her name.
But the Wildensteins were not the only major European breeders who supported Deep Impact. Flaxman Holdings — a Niarchos family entity — and Coolmore had also jumped aboard, and both were rewarded big time in 2018 when their respective homebred colts Saxon Warrior (out of Maybe, by Galileo) and Study of Man (out of Second Happiness, by Storm Cat) became classic winners.
Trained by Aidan O'Brien, G1-winning 2yo Saxon Warrior won the 2000 Guineas in Britain, and Study of Man won France's Prix du Jockey Club for Pascal Bary. (Of these, only Saxon Warrior was bred in Japan, but he had been preceded to a first European classic by a Japanese-bred when Flaxman homebred Karakontie, by U.S.-based sire Bernstein but whose Japanese-bred dam had been sent to Hokkaido while in foal, won the 2014 Poule d'Essai des Poulains.)
This past weekend, two years after Deep Impact's Euro classic double, he struck again for the Coolmore partnership when his Irish-bred daughter Fancy Blue (out of Chechnikova, by Sadler's Wells) won the Prix de Diane, providing first-season trainer Donnacha O'Brien with his first classic in the process.
The Diane was Deep Impact's fourth European classic and makes it nine different classic races won by his progeny, from distances of a mile to 3000 meters (about 15 furlongs), for 24 overall classic wins and 23 individual classic winners. It's also further proof, were any needed, that Deep Impact's record in Japanese classics wasn't simply because he overmatched his local competition, but because he was an elite stallion by any standards, against anything in the world, anywhere.
The most exciting part, if you're into this sort of thing, about Coolmore and Flaxman's successful patronage of Deep Impact is that it gives the rest of the European breeders the opportunity to widen the gene pool with the best of a Japanese sirepower's bloodlines. Other Sunday Silence-line horses have made a mark already: his son Divine Light got 2008 1000 Guineas winner Natagora before his sale from France to Turkey, and French 2yo champion grandson Dabirsim (Hat Trick), who currently stands in France, has sired a pair of Group winners. But neither had the credentials offered by Saxon Warrior or Study of Man.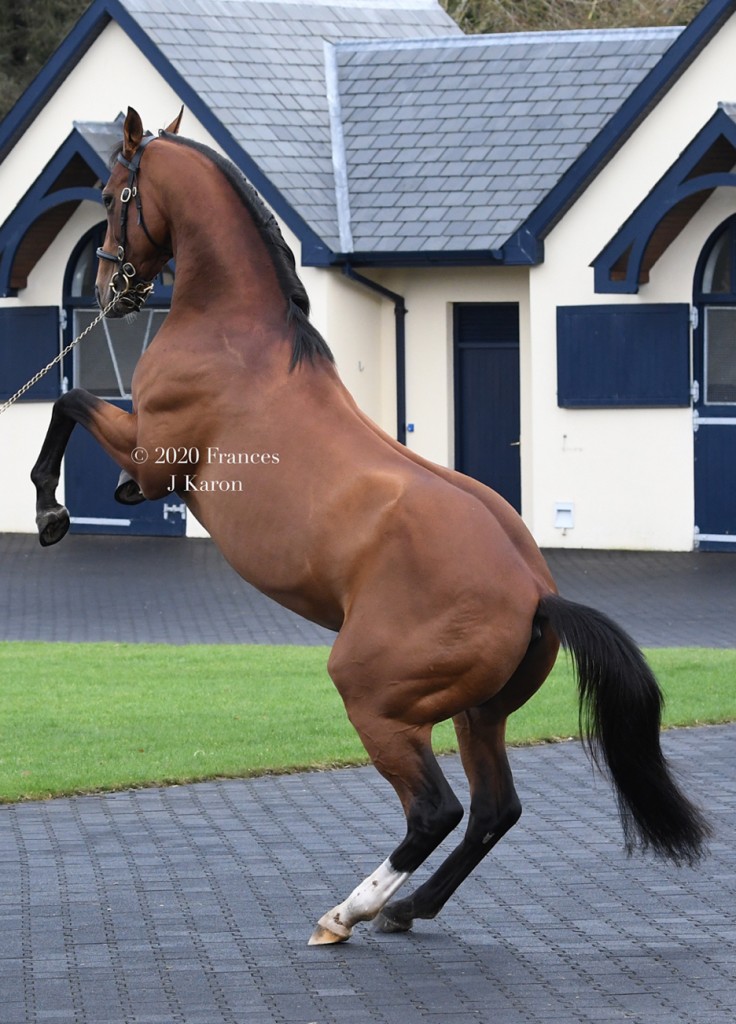 Saxon Warrior is wrapping up his second season at Coolmore's Irish headquarters, where he stood for €27,500 (and he does double duty in Australia). He's out of a Galileo mare with a second dam by Danehill, so if one wanted to go away from a further infusion of Sadler's Wells or Danzig, Deep Impact has 16 SWs out of Storm Cat-line mares, of which there are plenty in Europe, thanks in large part to Shamardal's influence — and he was a son of Giant's Causeway, broodmare sire of Beauty Parlour.
Study of Man, at Lanwades in the U.K., is a season behind Saxon Warrior; his first foals, conceived on a £15,000 fee, will arrive next year, and he in particular offers an antidote to the Sadler's Wells- and Danzig-line saturation, as his pedigree is free of both sires. His second dam, though, is the great Miesque (dam of Kingmambo), by Sadler's Wells' close relative Nureyev, so he should benefit extra from mares with Sadler's Wells (broodmare sire of Fancy Blue), including Galileo, which would mimic the breeding pattern of Saxon Warrior.
Deep Impact was hugely effective with lineages commonly found in Europe, such as Danzig (Filly Triple Crown winner Gentildonna), Kingmambo, Sadler's Wells, Storm Cat, and he's even got a G2SW from a daughter of Dubawi's sire Dubai Millennium. There are so many possibilities that it gives a lot of hope that Deep Impact sons will hit outside of Japan, where Kizuna, who won the G1 Tokyo Yushun (Japanese Derby), ended 2019 as the leading freshman sire, one of three Deep Impacts in the top five. Kizuna's got five GSWs so far. Like Study of Man, he is out of a daughter of Storm Cat.
One might also surmise that Deep Impact's first-generation influence in Europe is not done yet, either. Coolmore, if not Flaxman too, has 2yos, yearlings, and at least one foal, a 2020 filly out of Minding (by Galileo), yet to come.
**In December I wrote about Dubawi's emergence as a sire of sires, with his son Night of Thunder heading the first-season sires' list by SWs, and I noted that his paternal grandson Make Believe — sired by 2,000 Guineas winner Makfi — was behind Night of Thunder in fourth. On Sunday, both stallions got their first classic winners from their first 3yos, Make Believe with Mishriff in the G1 Prix du Jockey Club and Night of Thunder with Auyantepui in the G2 Oaks d'Italia.