By Frances J. Karon
On Martin Luther King Jr. Day, Uncle Mo was represented by his 53rd SW when Carressa, owned by Mercedes Stables, West Point Thoroughbreds, Scott Dilworth, Dottie Ingordo, David Ingordo, and Steve Mooney, won the G3 Megahertz on the turf at Santa Anita for trainer John Shirreffs. It was the 4yo filly's first stakes attempt.
Caressa is the first foal produced from Iplaytricks, a winner of four black-type races restricted to New Mexico-breds and a full-sister to fellow New Mexico-restricted SW Desert Tricks. Their unraced sire Desert God may not be well known in major racing circles, but he was very well bred: by Fappiano out of Blush With Pride. Blush With Pride, a Kentucky Oaks winner, is both daughter (Best In Show) and dam (Better Than Honour) of Broodmares of the Year. Desert God's pedigree earned him a place at stud in Arizona and later New Mexico, where he did quite well. His 25 SWs include Peppers Pride, the popular undefeated NM-bred winner of 19 races, 14 of which were stakes, and over a million dollars.
Desert God is now the broodmare sire of 3 SWs, two of which are G3SWs. The first, Runaway Ghost, won the G3 Sunland Derby…in New Mexico, which makes Carressa the only horse descendant one way or another of Desert God to earn a Graded black-type win outside of that state. She is also the sole horse under at least her first four dams to earn black-type beyond the New Mexico state line.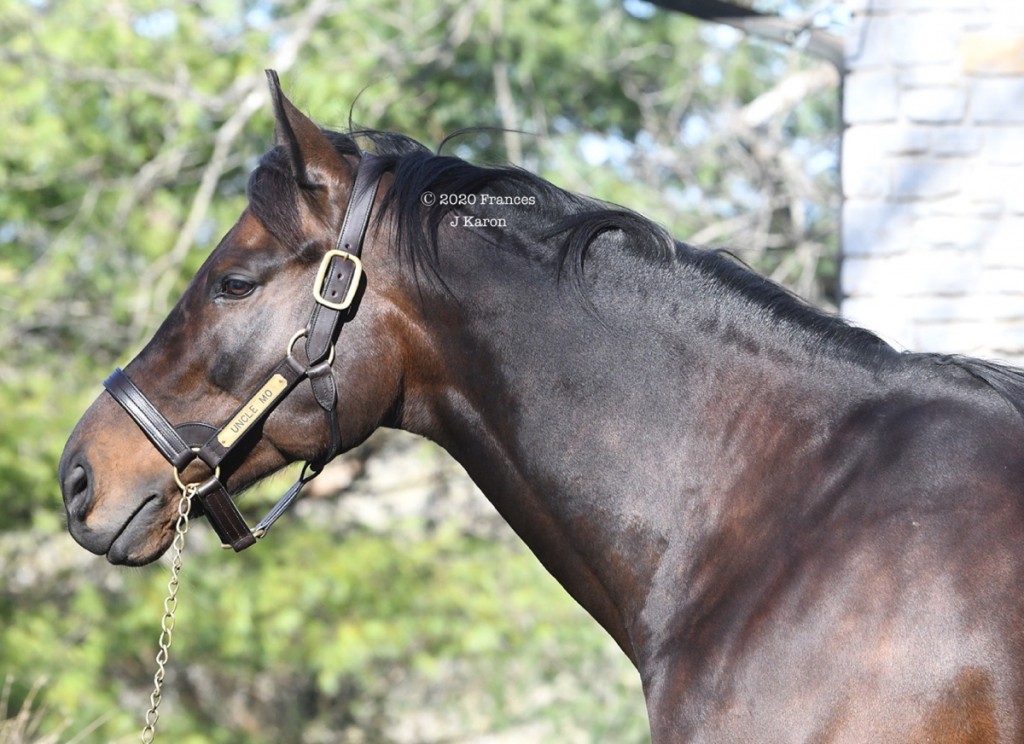 So while yes, Desert God was a respected leader in New Mexico and sired 9% SWs to foals, and while Iplaytricks's female family was also a good one in the same healthy regional market, we can look to Ashford/Coolmore America's stallion Uncle Mo for providing the class bump. The mating that produced Carressa was an inspired one for at least two reasons: her breeder jumped on Uncle Mo's bandwagon before his success, and she's bred on what's proven to be a powerful nick.
Michael Stinson, the owner at the time of Iplaytricks, took a gamble by breeding to a stallion whose first 2yos would be on-track the season she was being covered. By the end of the year, Nyquist, a future Kentucky Derby winner and one of seven 2yo SWs for Uncle Mo in 2015, had won the Breeders' Cup Juvenile and was voted champion 2yo male, and Uncle Mo's stock went through the roof. His 2020 stud fee is $125,000 — $100,000 higher than his advertised fee when Carressa was conceived. Coincidentally, $125,000 is the price Carressa sold for as a Keeneland September yearling.
The Uncle Mo/Fappiano cross, an A nick before Carressa's big win, has turned out to be excellent. Carressa is the sixth GSW, after G1SWs Outwork and Unbridled Mo and G3SWs Hot Springs, Mo Tom, and Uncle Vinny, to represent the cross.
Last thing I'll note here is Uncle Mo's prowess and versatility in getting GSWs on dirt and turf. He's got 17 dirt GSWs, 11 turf GSWs — four, led by G1SW Mo Forza, from his 2016 crop alone — and one on the all-weather. These totals count Mo Town, a G1SW on turf and G2SW on dirt, in two categories. Mo Town, whose broodmare sire Bernardini is out of a Fappiano-line mare, also stands at Ashford and was recently in the news for siring his first foal.