By Frances J. Karon
Competition at most levels of the stallion game is tough. Mare owners who breed commercially, which seems to be most of them these days, are at the mercy of an unforgiving market that is quick to judge, and they must choose mates carefully or risk getting burned in the sales ring. By the end of a stallion's freshman season, breeders have access to data to help them decide if that sire is producing satisfactorily, meaning that end-of-season numbers are extremely important to a young horse.
Ad agencies and farms get creative with their angles to make a stallion stand out from the rest, but however the data is interpreted or spun, the basic metrics are the same: progeny earnings, stakes winners/stakes horses, and individual winners.
As a rule, the title of leading first-season sire as recognized by publications is conferred by total progeny earnings, while many people consider a stallion's number of stakes winners and stakes horses among his first 2yo crop a more telling barometer than progeny earnings. As 2019 draws to a close, the same stallion — American Pharoah (by Pioneerof the Nile) at Ashford Stud — would be North America's leader whether by progeny earnings (it depends on which list you refer to, but somewhere north of $2.6 million) or black-type horses (11), tied with WinStar's Constitution (Tapit; second by earnings and stakes horses), Ashford's Competitive Edge (Super Saver), and Spendthrift's Race Day (Tapit) at 4 individual SWs each.
Bragging rights for the third category, individual winners, seem to be less cut-and-dried in this age of globalization. Take Constitution, for instance. As of 5:00 PM on Sunday, December 22nd, The Jockey Club — the steward of information in North America — shows him as having 27 first-crop winners. And this is where industry observers are often a step ahead of official channels. The TDN's Alan Carasso noted on Twitter that Constitution's Japanese-bred Sunrise Rapport (out of Kara's Match Point, by Curlin) won at Hanshin in Japan over the weekend, on a Friday in the U.S./Saturday in Japan. Sunrise Rapport shows up as unnamed, and therefore unraced, in TJC's system, but that will soon be updated. The official flow of information from Japan is slower than social media.
And yet even after Sunrise Rapport gets added into TJC's system and ups Constitution's number of first-crop winners to 28, that figure will still be one winner short.
This is another example of how the internationalization of racing happens faster than official channels can keep up with it. Constitution has two winners in the Republic of Korea, a racing market on the rise globally, having sent U.S.-bred, Korean-raced Blue Chipper (Tiznow) to run in the Breeders' Cup at Santa Anita, where he finished third in this year's G1 Dirt Mile.
Constitution's Consti Solo, bred in the U.S. and exported to Korea as a 2yo, is a winner of his only start, which came at Seoul on October 26th. His win is reflected in TJC records.
Meanwhile, despite breaking his maiden, a C4 maiden at Seoul for foreign-breds — just like Consti Solo's race three months later — on July 27th, Myeongjin Fly, another U.S.-bred son of Constitution, appears as "unraced," according to TJC. (Coincidentally, Myeongjin Fly won at Seoul again today, December 22nd, which may expedite getting him into TJC's system.)
The reason for this win falling through the cracks is because information from the Korean Stud Book is not automatically tied into TJC's system, meaning that manual research and data entry are required on our end, so the records of U.S-bred or -sired horses racing in Korea is not a pushbutton task. Having to pull up all of the Korean racing information and enter it by hand is a big job, and by its nature means that sometimes there are gaps that take a while to get filled in.
So that is one problem that can affect an accurate assessment of a stallion's total number of winners. Whether he's credited with 29 winners or 28, Constitution is currently the leader in the category. Tapiture (Tapit) is next, with 27 winners, and at 26, American Pharoah shares third with Competitive Edge.
But Competitive Edge brings light to another problem, because in reality, his first Northern Hemisphere season in the breeding shed has produced as many winners as Tapiture — 27, not 26. It's just that one of them, Azucar Rubia, won in Chile, where she is considered a 3yo, despite being conceived at the same time as her sire's progeny that are recognized as first-crop 2yos.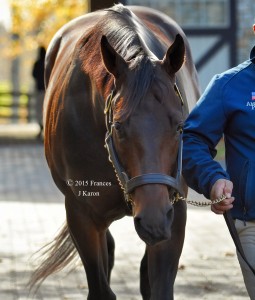 Yes, Competitive Edge has been shuttling to Chile for dual hemisphere coverings, but Azucar Rubia's dam Visit Copenhagen (Speightstown) was bred to him in Kentucky during his initial Northern Hemisphere season. A pregnant Visit Copenhagen was exported to Chile, where she foaled Azucar Rubia on April 2nd, 2017. Chile is a Southern Hemisphere-based country; thus, Azucar Rubia officially became one year old on July 1st, 2017, as a suckling foal three months after she was born.
Fast forward to August 26th, 2019, when Azucar Rubia debuted in and won a race for 3yo maidens at Club Hípico de Santiago. She faced a field of 11 bona fide Chilean-bred 3yos, carrying equal weight and winning by 2 3/4 lengths, a not inconsiderable feat considering that she would be in 2yo races if she were in the U.S. The filly immediately behind her was more than eight months older than Azucar Rubia. Like the 26 first-crop winners Competitive Edge is credited with on freshman sire lists, she was conceived during the Northern Hemisphere breeding season (February to July), but by considering her a 3yo and keeping her out of her sire's first-crop totals, she — and therefore he — is being penalized for racing in a country with a different foaling season. Azucar Rubia's existence in Chile also technically makes the Competitive Edge progeny from his first Chilean-conceived crop second-crop foals.
A similar thing has happened to Khozan (Distorted Humor), a freshman sire at Journeyman in Florida. Among his 20 winners — though he's credited on freshman sire lists with 18 or 19, depending on where you look — is Airbus, a Group 1 winner of the Polla de Potrillos, a classic race for 3yos, the age that he's considered in Peru. Because the March 29, 2017, foal — he'd be a 2yo if he were in the U.S. — was born in Peru, he's not recognized on sire lists, which show Khozan with 2 SWs instead of 3.
None of these examples is a one-off; these issues have been affecting freshman sire lists for a long time, but it seems archaic now more than ever that as worldwide information is so readily available, we are not able to have more timely data, or data that is processed in a way that it can be more fair to the horse in question.
In either type of case — that of Constitution and Competitive Edge — the farms that stand these horses would be within their rights to advertise their stallions with 29 and 27 first-crop winners, respectively. As the sires of 4 SWs each, neither Constitution, who amazingly has 4 GSWs, nor Competitive Edge really needs the boost from their missing winner, but it's unfair to shortchange them because of a glitch on the one hand or accident of geography on the other.