By Frances J. Karon
I heard from a friend asking if it could really be true that a stallion in his mid-to-late teens, a top sire of G1SWs, only has a handful of SWs as a broodmare sire. Because the stallion is into the latter half of his stud career and is already a successful sire-of-sires, it seemed out of proportion that he should have so few SWs as a damsire.
But even though at first glance it appears strange, it's not out of proportion, really. Look at the list of the this year's top broodmare sires (in N.A. and Europe) to date, as per the TDN. The leaders by number of current GSWs are:
1. Pivotal (1993; 16 crops of racing age as broodmare sire), with 16 GSWs
2. Danehill Dancer (1993; 14 crops), 14 GSWs
3. Dansili (1996; 12 crops), 13 GSWs
4. Galileo (1998; 11 crops), 12 GSWs
4. Sadler's Wells (1981; 29 crops), 12 GSWs
6. Singspiel (1992; 15 crops), 11 GSWs
7. Unbridled's Song (1993; 17 crops), 10 GSWs
7. Danehill (1986; 23 crops), 10 GSWs
7. Tapit (2001; 8 crops), 10 GSWs
10. Bernardini (2003; 6 crops), 9 GSWs
10. Storm Cat (1983; 25 crops), 9 GSWs
10. Oasis Dream (2000; 9 crops), 9 GSWs
10. Kingmambo (1990; 19 crops), 9 GSWs
10. Green Desert (1983; 25 crops), 9 GSWs
15.  A.P. Indy (1989; 20 crops), 8 GSWs
15. Giant's Causeway (1997; 12 crops), 8 GSWs
15. Empire Maker (2000; 9 crops), 8 GSWs
15. Lomitas (1988; 17 crops), 8 GSWs
19. Elusive Quality (1993; 14 crops), 7 GSWs
19. More Than Ready (1997; 12 crops), 7 GSWs
19. Monsun (1990; 16 crops), 7 GSWs
Most of these stallions are dead or pensioned. Just seven of the top 21 North American- or European-based broodmare sires by GSWs remain active at stud: Pivotal (at Cheveley Park Stud), Galileo (Coolmore), Tapit (Gainesway), Bernardini (Darley), Oasis Dream (Juddmonte), Empire Maker (Gainesway), and More Than Ready (WinStar, with double duty at Vinery in Australia), and of these, Bernardini, Tapit, Oasis Dream, and Empire Maker are represented by single-digit crops as broodmare sires, a distinct disadvantage to being competitive on this list.
Stallions generally prove themselves pretty quickly as sires, whereas the opposite is true in their roles as broodmare sires. Consider that the youngest on the list above, Bernardini, is 16 years old and although he has 12 crops of racing age in his capacity as a sire, his producing daughters have half that many crops of racing age. They are the dams of 9 GSWs this year — the same number as Storm Cat (25 broodmare sire crops), Green Desert (25 crops), Kingmambo (19 crops), and Oasis Dream (9 crops) — and a lifetime total of 16 GSWs. In 2019, these include Dunbar Road (Quality Road), Hunter O' Riley (Tiz Wonderful), Maxfield (Street Sense), Serengeti Empress (Alternation), and Wicked Whisper (Liam's Map), all G1SWs this year.
The first GSW out of a daughter of Bernardini was Dark Nile, a Pioneerof the Nile filly who won the G3 Delaware Oaks at three in 2016. Her dam Royal Society was an unraced mare from her sire's second crop, and she conceived Dark Nile in 2012, when she was just three.
Oblige, the other Bernardini mare to foal a GSW in 2013 — she's the dam of Hunter O' Riley, who won his first graded race at four in 2017 — was, like Royal Society, unraced and covered as a 3yo.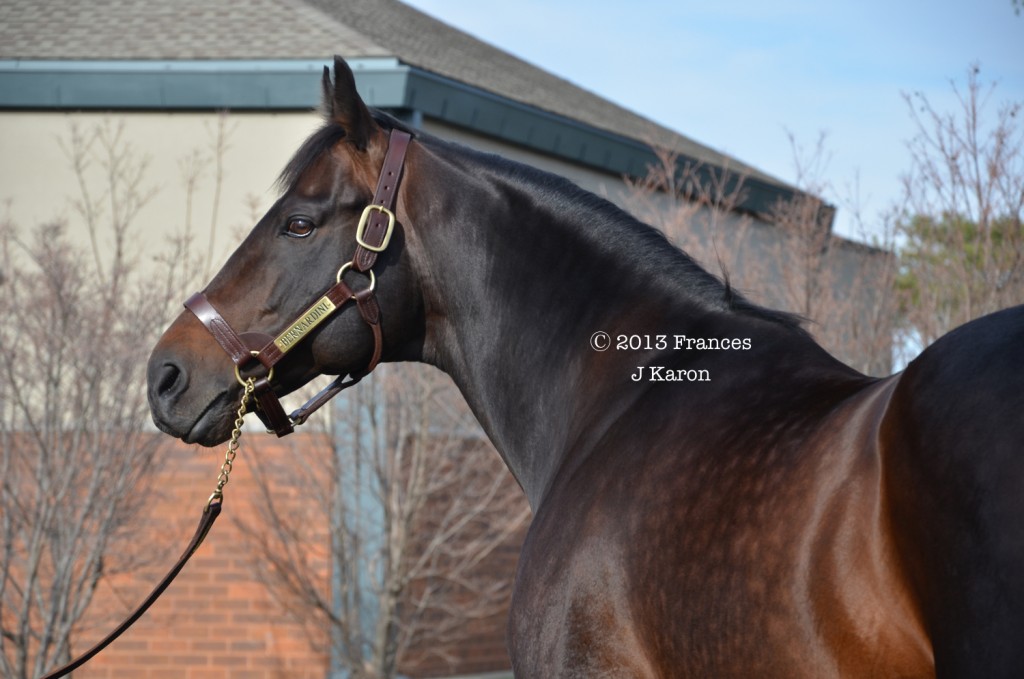 What this often means is that the first few or more broodmare sire crops are, in a sense, throwaway crops, with anything good — such as Hunter O' Riley and Dark Nile — something of a bonus, because as a (general) rule, the early crops are out of a stallion's unraced or unaccomplished daughters, and thus typically sired by lesser stallions. (Obviously not in the case of Royal Society to Pioneerof the Nile, but that's with hindsight; he was a $15,000 stallion in 2012.) The foals sired by better stallions and produced from the successful racing daughters arrive years later, and once that starts happening, the broodmare sire will experience a breakout year like Bernardini did in 2019. From this point onward, you can expect Bernardini to remain at the top end of the broodmare sire list for a long time.
There are other things at play, too. Sure, Tapit (with 10 current GSWs as broodmare sire) will stand for a $200,000 fee in 2020, but when he retired, he was $15,000 for the first two seasons and $12,500 for his third and fourth seasons. The quality of mares he moved up or overcame — if you need proof, check out 2009 champion 2yo male Hansen's catalogue page (this page is for a full sister to Hansen, who did not go through a sale, from the 2015 Keeneland September sale) — to go from a low of $12,500 to a high of $300,000 means that he's earned it the hard way, and comparing the daughters from the early crops to those of his later crops is apples to oranges. He sired champion Stardom Bound (who is the only SW out of a mare by the obscure Grey Dawn II stallion Tarr Road) in his first crop, but by then, Tapit had already sired or had four crops in the pipeline before he began to attract better-bred mares who could produce fillies with better genes on both sides of the family and that might warrant breeding to better sires down the road. Tapit's first GSW as a broodmare sire appeared in the sixth crop of foals out of his mares.
So if the question is, "How is it that such a phenomenal sire is not making an impact as a broodmare sire?" The answer is to give him time. Even the horses that turn out to be the best broodmare sires take a while to get results. Bernardini's sire/Tapit's paternal grandsire A.P. Indy, whose daughters have produced 99 GSWs, didn't get his first one (Ruby's Reception, a foal of 2000) until 2003, when the oldest progeny of his daughters were six years old and he himself was 14, and his first G1SWs came when he was 17.