By Frances J. Karon
In June, I used this space to write about Stormy Atlantic, of whom I've long been an admirer. I've become an admirer of his son Get Stormy, too, with more to like all the time, it seems.
Get Stormy is a $6,500 Crestwood Farm stallion whose 4yo daughter Got Stormy (dam by Malabar Gold) earned an emphatic first G1 victory in Saturday's Fourstardave H. at Saratoga Race Course, in which she beat the boys and destroyed the previous inner turf course record of 1:33.13, stopping the clock in 1:32. Poor Macagone had only just set the record on August 2nd.
On August 3rd — seven days before the Fourstardave — Got Stormy came within two-hundredths of a second of equaling Macagone's record when she won the Listed Fasig-Tipton De La Rose S. against fillies and mares by four lengths. She carried 124 pounds, including Tyler Gaffalione, in the De La Rose, versus 116 (and Ricardo Santana Jr.) in the Fourstardave.
Gary Barber and Southern Equine Stable's Got Stormy, trained by Mark Casse, became the first filly or mare to win the Fourstardave, the race named after the "Sultan of Saratoga" who is buried in the infield of Saratoga's Clare Court jogging track. She emulated sire Get Stormy — yes, I know…it can get confusing — who won the 2010 Fourstardave, back when it was a G2 run over an extra half furlong than the mile-long 2019 version.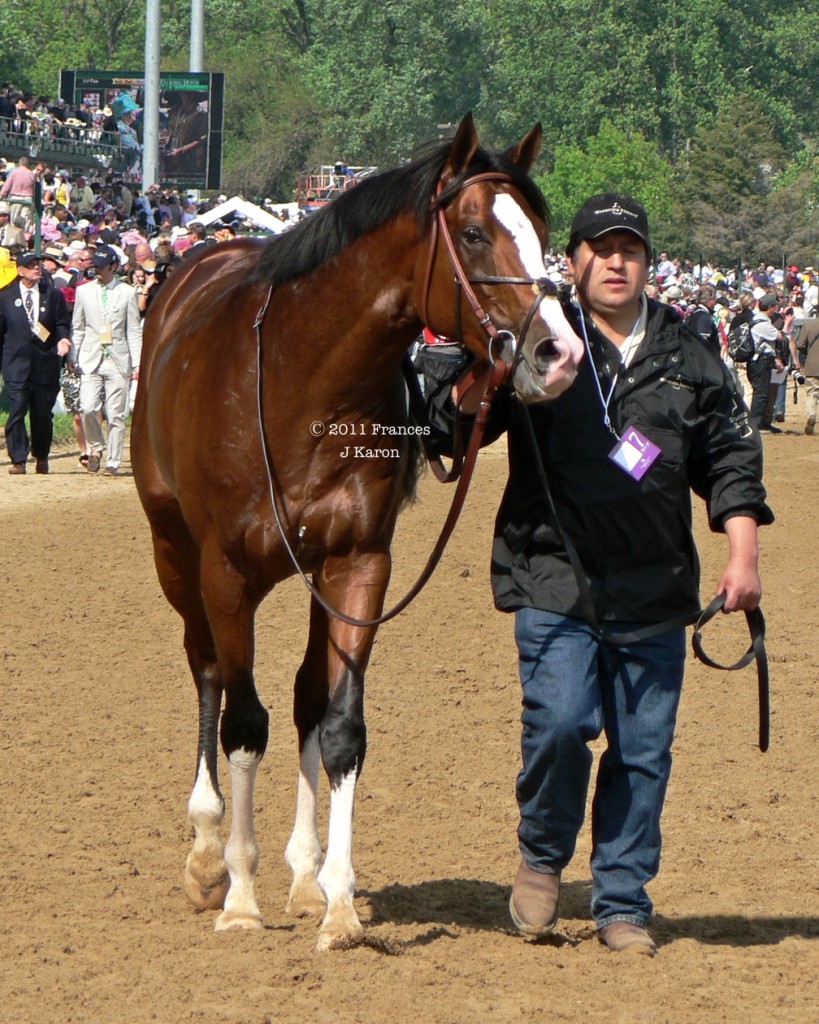 During his long career on the track, Mary Sullivan's Sullimar Stable homebred Get Stormy was a fan favorite, possibly as much for his flashy white markings — his nickname in trainer Tom Bush's barn was "Clyde" due to his uncanny resemblance to a Clydesdale — as for his racing ability, which saw him win 11-of-31 starts, with five seconds and four thirds. Get Stormy won nine black-type races, with at least one GSW each year from three to six, all on the turf, from distances between a mile and nine furlongs. A Saratoga regular much like Fourstardave, but on a smaller scale — Fourstardave made 21 starts, with nine wins, at Saratoga — Get Stormy won four of his seven starts and placed twice at the Spa. Got Stormy is now 2-for-2 at Saratoga.
Get Stormy retired to Crestwood in Lexington for a $5,000 fee, getting 76 named foals of 2014, his biggest crop so far. Those 76 foals included two future SWs, G3 winners Fifty Five (Brahms) and Storm the Hill (Good and Tough). His second crop, 4yos this year, is spearheaded by Got Stormy, but also includes SWs Go Noni Go (Perfect Soul), a G3 winner on all-weather, and Storm the Hill's full brother Dragon Drew. The stallion is only represented by 29 or so named foals from his 2016 crop, and that's already produced SW Raintree Starlet (Eavesdropper).
Until last Sunday, a day after Got Stormy's win in the De La Rose — when Foolish Humor (a 2yo Distorted Humor filly out of an unplaced half-sister to Get Stormy) won the Colleen S. at Monmouth — Get Stormy was the only black-type winner under his first three dams. He was produced from the unraced Kiri's Clown mare Foolish Gal, a daughter of the unraced Far North mare Galaxy North, herself a daughter of the unplaced Apalachee mare Hayley Nicole. (How he became such an outstanding racehorse and is doing so well as a sire from limited opportunities is anybody's guess, but as I mentioned when discussing Stormy Atlantic, it could have something to do with the duplications of the Rough Shod II family through his sire and dam, Apalachee being the source from his female family.)
As a sidenote, Mill Ridge Farm's Headley Bell reported on Twitter today that Foolish Gal, Get Stormy's dam (whose last registered foal was born in 2015), has been pronounced in foal to Oscar Performance.
While not a commercial hit — Got Stormy is among Get Stormy's highest-ever priced yearlings and 2yos, and she was just a $23,000 Keeneland September yearling (for co-breeders Mt. Joy Stables and the McLeans of Crestwood) and a $45,000 Fasig-Tipton Midlantic 2yo, purchased by Alan Quartucci — this inexpensive stallion, who earned his first-ever stud fee raise for the 2019 season, is a gift to breed-to-race mare owners; he's what's known as a "racehorse sire." His lifetime average earnings per starter — and 151 of his 205 foals have started — is nearly $44,000, and most of his eight stakes horses are performing in Graded races at the most prestigious tracks in the country.
From August 3rd to August 10th alone, Get Stormy was represented by Got Stormy, with two stakes wins at Saratoga, including a G1, in that short timeframe; Storm the Hill, who ran second by a nose in the 8.5 furlong G2 Yellow Ribbon H. at Del Mar; and Get Explicit (Explicit), second in the 12-furlong G3 Fasig-Tipton Waya S. at Saratoga. Of these, Get Explicit is the only one who has yet to win a stakes, but she has been second or third in four Graded races.
Their sire's smallest crop, consisting of 24 foals, are 2yos this year, which is unfortunate, just as their sire has really begun to prove himself, but with fillies like Got Stormy, Storm the Hill, and Get Explicit earning Graded black-type left and right, he is unlikely to have such a small crop again. And like their sire, the Get Stormys should improve with age, so you can expect to see him get more black-type horses later this year and going into next year.
Get Stormy has five yearlings, including a full brother to Storm the Hill and Dragon Drew consigned by Trackside Farm, catalogued for next month's Keeneland September sale. Looking ahead even further, two of the mares bred to Get Stormy for foals of 2020 are half-sisters to Got Stormy.