By Frances J. Karon
It's early days in the freshman sire race, but here are the black-type facts so far, in black and white:
As of July 22nd, seven North American-based first-crop sires are represented by stakes winners: American Pharoah (Pioneerof the Nile), sire of G3SW Maven; Constitution (Tapit), G3SW By Your Side; Competitive Edge (Super Saver), SW My Italian Rabbi; Dramedy (Distorted Humor), SW Southgate; Fast Anna (Medaglia d'Oro), SW Fast Scene; Race Day (Tapit), SW Gee She Sparkles; and Tapiture (Tapit), SW Sky of Hook. That means that three, or nearly half, of the seven are sons of Tapit, which is a pretty big deal for Gainesway Farm's son of Pulpit.
There's been a perception that Tapit was a little slow out of the starting gate as a sire of sires. Of his 20+ sons that are, or were at one point, standing in North America and have three-year-olds or older, seven have sired SWs, and this includes stallions with regionally restricted stakes winners. On class, Tapizar (at Gainesway), sire of champion Monomoy Girl (winner of five G1s, and she is back in training this season) is the leader. Overall, Tapizar has four GSWs from his total of seven. Trappe Shot (Claiborne) also has four GSWs among his eight SWs. Concord Point, who for whatever reason was never well received from the time he retired to stud but who had the support of owner Kaleem Shah in the breeding shed, is represented by the highest number of black-type winners, with nine, and has one G1SW. Champion Hansen has four, including a G3SW. The last two named — Concord Point and Hansen — are both now at stud in South Korea, which means that they will have little opportunity to improve their black-type records, with their progeny racing in a country that offers only six SITA-recognized black-type races per year. Hansen's four stakes winners are all from his only crop (foals of 2014) conceived in Kentucky prior to his sale to Korean interests.
Tapizar and Hansen were Tapit's first two G1SWs to retire to stud in North America — Testa Matta, a G1SW in Japan from Tapit's first crop, retired to stud in South Korea in 2014 — and both finished in the top 10 on the 2016 freshman sires' list, Tapizar in fourth and Hansen in ninth, with one stakes winner apiece.
This year, 2019, is the first since 2016 that any G1-winning son of Tapit has 2yos in North America, so to see Constitution (WinStar), a horse who didn't even race at two, occupying the third spot on the freshman list already with a G3 winner is encouraging for other top sons of Tapit to follow. In fourth place, G2SW Tapiture (Darby Dan) is right behind Constitution, with Race Day (Spendthrift), also a G2SW (and like Constitution, a horse who didn't race until he was three), in eighth. Tonalist (Lane's End), another of Tapit's G1 sons, hasn't gotten off the mark yet, but, despite a G1 win at a mile, three of his four G1s were from 10-12 furlongs, so nobody would expect him to be getting early 2yos.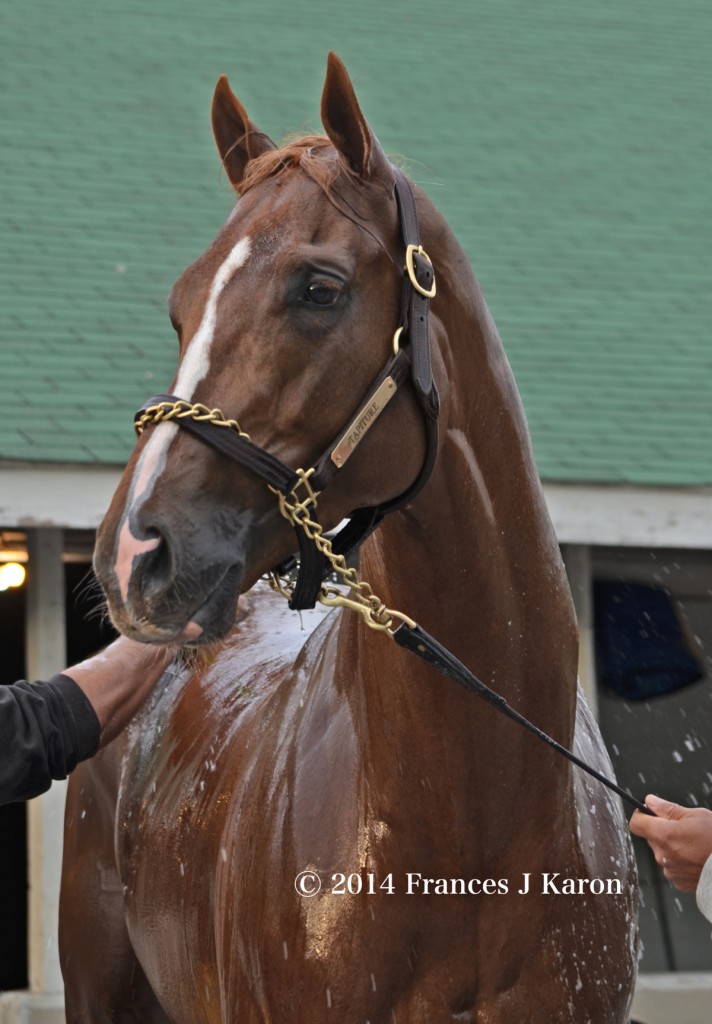 The continued success of Constitution, Tapiture, and Race Day can only help get the next groups of Tapit sons catch the right eyes and get into the right hands. Next year's freshman class includes Frosted ($50,000 stud fee at Darley), a three-time G1SW, whose first yearlings averaged $213,571 ($160,000 median) for seven sold, and G2SW Anchor Down (now $7,500 at Gainesway, down from $10,000 his first year), who was represented by $100,000 and $90,000 summer sale yearlings. G1SWs Cupid (Ashford) will follow in the next year, and Tapwrit (Gainesway) the year after that.
Sure, Tapit has more sons with first 2yos than ever before, but having three top-10 individual freshmen with a black-type winner each — two at Saratoga, no less — is serious business, and if you've got a foal by or a mare in foal to a young son of Tapit right now, odds are good that you're pleased with how things are going.