By Frances J. Karon
It's been more than three years since Scat Daddy (Johannesburg) died, unexpectedly and at the far-too-young age of 11, in December of 2015, but, as we were reminded only this weekend, he continues to be greatly missed. That will likely be the story for a long, long time.
Never mind his accomplishments on the racetrack, where he was a G1SW at two and three — Scat Daddy's most memorable efforts came in his short time in the breeding shed, where he's responsible for 116 stakes winners from 1,158 registered foals in eight crops (some of which were dual hemisphere). That translates to one in every 10 Scat Daddy foals becoming a black-type stakes winner, and as I noted on Twitter in February when his ratio of stakes winners to foals was at 9.585%, to achieve 10% is a remarkable achievement in modern-day breeding.
On April 27th, the opening card of the meet at Churchill Downs, Scat Daddy's daughter Jo Jo Air became his 116th stakes winner, officially moving him above the 10% mark. She's his 10th SW from his final crop, and, if he stays true to his one-in-10 ratio, there should be six or seven more SWs to come from these last 3yos, which were conceived at the highest stud fee at which he ever stood: $35,000. (His undefeated Triple Crown winner Justify was bred from an advertised fee of $30,000). Before his death, the Coolmore stallion was set to cover mares at a $100,000 fee in 2016, and the mind boggles thinking about what he could have achieved with the higher caliber mares synonymous with a a six-figure stud breeding fee.
Fortunately, with a (likely-to-increase) number of Graded/Group-winning sons left behind, Scat Daddy's legacy will have every chance to thrive. To say that the early results provided by Irish-based No Nay Never are promising is to sell them short. G1SW No Nay Never was Europe's leading first-season sire of 2018, with six of his progeny winning black-type races at two. These stakes winners, now numbering eight from his first Northern Hemisphere crop, include Ten Sovereigns, winner of the G1 Middle Park and G3 Round Tower, and Land Force, first in the G2 Richmond. There are eight more black-type placed Northern Hemisphere-bred runners, plus a G3SW and a G3spw from his first Chilean crop of 2yos (in the Southern Hemisphere racing season), for nine SWs and nine additional stakes horses, all told.
As you might expect, after the heartbreak of losing Scat Daddy just as his star was on the rise, Coolmore invested heavily in his stock, with a monopoly on all five of his Northern Hemisphere G1-winning sons that have retired to stud. (The sixth NoHem-bred Scat Daddy male, 4yo Mr Melody, is still racing in Japan.) The success with No Nay Never, who stands at Coolmore for €100,000 — five times his introductory stud fee — is just the first of the rewards the entity will reap in 2019 and beyond. Standing alongside No Nay Never in Ireland are Caravaggio (€35,000), whose first foals are arriving this year, and Sioux Nation (€12,500), covering his initial book of mares. Meanwhile at Coolmore's Ashford in Kentucky, Horse of the Year Justify ($150,000) and top sire Into Mischief's half-brother Mendelssohn ($35,000) are also covering their first mares.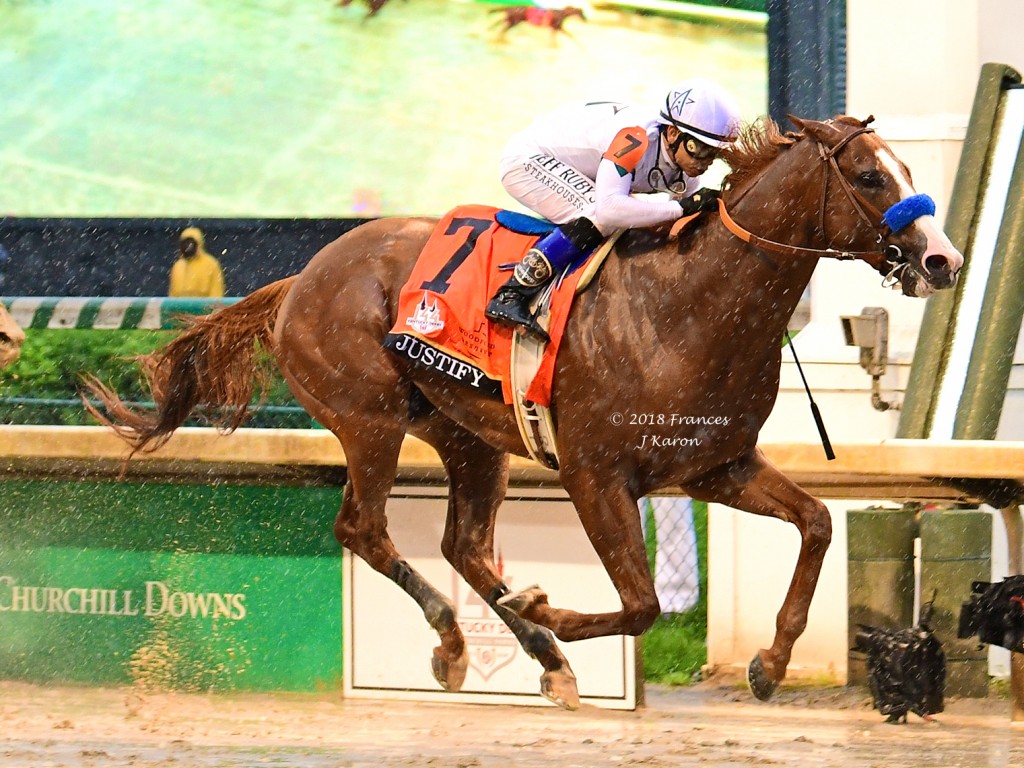 There are other Graded stakes-winning sons of Scat Daddy in North America, too, none more expensive than $10,000, whose oldest progeny are 2yos or younger: Daddy Long Legs (Kentucky) and Frac Daddy (Canada) with 2yos, though it must be noted that Daddy Long Legs has several crops of racing age in Chile, where he's sired G1SW/champion Fallen From Heaven; Chilean-bred Tu Brutus (Kentucky) and Almasty (Pennsylvania) with first foals of 2019; and Chilean-bred Dosificado (California) standing his first season. In Europe, his GSWs El Kabeir (Ireland) has foals this year, and Seahenge (France) and Smooth Daddy (Ireland) will have foals in 2020.
Scat Daddy has nicked well with an assortment of broodmare sire lines, such as those tracing to Gone West (13 GSWs, including No Nay Never and a G3SW by No Nay Never that is inbred 4×3 to Gone West), Deputy Minister, Unbridled's Song, A.P. Indy, Thunder Gulch, Holy Bull, and Street Cry. These lines are all readily available in N.A., so breeders who follow the patterns that worked with Scat Daddy should be able to mine his bloodline effectively. Looking to Europe, six of No Nay Never's stakes winners are out of Danzig-line mares, which are plentiful on that continent.
Yes, Scat Daddy's loss was monumental, but there is every reason to believe that his short time with us will be felt for many generations to follow.