By Jack Werk
As we get ready for the 2010 breeding season, watch this spot regularly for a new feature here: The New Sire Showcase. I will periodically highlight new young prospects entering stud in 2010. Today, the featured stallion is Vinery's KODIAK KOWBOY, the Eclipse Award winner of 2009 as America's Champion Sprinter and the Canadian champion 2-year-old of 2007.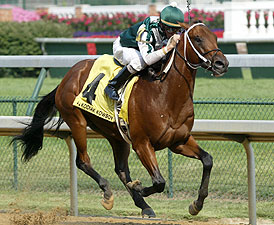 KODIAK KOWBOY (2005 Bay c by Posse – Kokadrie, by Coronado's Quest ). 23 starts, 11 wins, 4 seconds, 3 thirds. Earned $1,663,363. Won G1 Carter Handicap, G1 Hill 'N' Dale Cigar Mile Handicap, G1 Vosburgh Stakes, etc . Sold for $40,000 as a Keeneland November weanling; resold for $70,000 as an OBS August yearling. Click here to view 5-cross eNicks pedigree. Standing for $15,000 live foal at Vinery in Kentucky.
Kodiak Kowboy is by the ex-Vinery sire Posse, who has moved to New York for the 2010 breeding season to make way for his champion son, recently elected the champion sprinter of 2009. Don't forget, either, that Kodiak Kowboy was great at 4 in 2009, but he was champion before, too, in 2007, when he was the champion 2-year-old colt in Canada!
A three-time G1 winner with championship credentials, a fine family, and a long line of descent from 2-year-old and early maturing sires, Kodiak Kowboy is one of the most attractive stallion prospects to enter stud in 2010, in my opinion. And at a fee of $15,000, this one's a classic "No Brainer"!
The new "speed gene" that's been found would classify Kodiak Kowboy as a C:C – that's speed and early maturity squared! Take a look at Kodiak Kowboy's sire line and see how consistently speed oriented and early developing it is, starting with Northern Dancer and ending with his sire, Posse:
Northern Dancer was a champion Canadian 2-year-old who won the Remsen Stakes, Coronation Futurity, Summer Stakes, and Carleton Stakes as a juvenile. He was also second in the Cup and Saucer Stakes and Vandal Stakes, so he was an out-and-out early developer by any standard with a record of 7 for 9 at 2. That's precocious by any definition!
His son Vice Regent only 5 starts due to injuries that are well documented to have compromised his racing career, none at 2. He won once from 2 starts at 3, and once from 3 starts at 4 and was not a stakes winner. However, he was sent to stud for the promise he had shown – not too many non-SWs go to stud! – and because of his tremendous pedigree. You see, his year older full brother, Viceregal, was Canadian Horse of Year at 2 when he went 8 for 8. That's serious 2-year-old form! (The decision to send him to stud was validated: Vice Regent ended up leading the Canadian general sire list on 13 occasions.)
Vice Regent sired Deputy Minister, another champion 2-year-old. Deputy Minister won the G1 Young America Stakes, the G1 Laurel Futurity, and five other stakes at 2, when he was named champion 2-year-old in the US AND champion 2-year-old and Horse of the Year in Canada.
Deputy Minister's son Silver Deputy only raced at 2 and made only 2 starts, winning them both. One of them was the Listed Swynford Stakes. That same year, by the way, the champion Canadian 2-year-old male was Regal Classic, a son of Vice Regent who was also good enough to run second in the G1 Breeders' Cup Juvenile.
Silver Deputy's son Posse won 2 of 7 at 2 but was an early maturing type who was second in the early season G3 Bashford Manor Stakes and who won the G3 Kentucky Breeders' Cup Stakes later in the year.
Posse sired Kodiak Kowboy, who won 4 of 7 at 2 and also was an early maturing colt that was better than his sire – he actually won the G3 Bashford Manor Stakes. He also won the G2 Saratoga Special and was third in the G1 Breeders Cup Juvenile. He also won the Listed Victoria Stakes in Canada and, like many members of this sire line, was named the champion Canadian 2-year-old of his year.
Does anyone wonder why Kodiak Kowboy ran like he did, based on this consistently early developing and speed branch of Northern Dancer?
Now, mix this with the Mr. Prospector line of Forty Niner through Coronado's Quest that fronts a tough female family noted for producing older horses, and you have a 2-year-old sprinter who has the ability to be a champion older sprinter!
Check out the family: Kokadrie (Coronado's Quest – West Turn, by Cox's Ridge) was unraced. She was, however, a half-sister to the tough Gone West horse West by West, who won $1,038,123 by developing into a successful handicapper at 4 and 5 when he won such races as the G1 Nassau County Handicap and the G3 Widener. He also was second in the G1 Whitney and third in the G1 Suburban – each of these races at one time the best handicap races in the country.
West by West won only one of 3 starts at 2 but was G2-placed in the Arlington-Washington Futurity, but it's obvious that he was better after age 2, although he was forward enough to race at 2.
Another notable from this family is Little Missouri, a Cox's Ride colt who is a full sister to Kokadrie's dam, West Turn (also by Cox's Ridge). Little Missouri also won once from 3 starts at 2 but came to form at 4, just like West, although he was stakes-placed at 3. But at 4, he won the G1 Brooklyn Handicap among other races and earned $553,025. More so than West by West, Little Missouri was a stayer and a later developer.
The general essence of this family, then, is apparent in the pattern of development of West by West and Little Missouri: some 2-year-old form, but better late development and the ability to stay farther than the sire line of Kodiak Kowboy.
Well, Kodiak Kowboy was the champion sprinter of 2009, but he won the G1 Cigar Mile to end his career, so he was also a miler! And milers, as they say, make the best sires!