By Jack Werk
The discussion of stud fees has been hot and heavy since mid-October. If haven't read Sid Fernando's recent column in Racing Post about stud fees, I think it's well worth reading (click here). No, it's not because I'm quoted in the article! Sid makes some important points about the reduction in stud fees for 2010, and he asks whether some stallions might still need to drop more before the breeding season ends.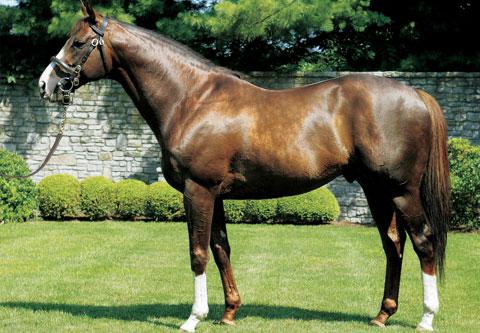 Well, I can tell you about one stallion that actually didn't need to drop (from $125,000 in 2009 to $100,000) in 2010, but did! It should be pretty easy to figure out – just check our leading sire list of unrestricted SWs (USWs) through Nov. 29 and see who's on top with 18 USWs! (Click here to view chart) I'm speaking of Coolmore's Giant's Causeway, of course, one of the best young stallions at stud in the world. Not only does he lead stallions by number of USWs for the year, he also leads all U.S. stallions by first-time USWs for the year with 14!
Actually, he's got a decent shot at cracking the 20 USW plateau this year, which has only been done twice before by U.S.-based stallions. In 2004, A.P. Indy racked up 20 USWs and last year it happened again — by none other than Giant's Causeway!
A regally-bred son of Storm Cat – Mariah's Storm, by Rahy, Giant's Causeway has taken over for his sire in the U.S. and there's really no doubt that he is Storm Cat's best sire. To date, you could say he was also Storm Cat's best runner, and that's saying a lot because Storm Cat was better in the U.S. than Europe but Giant's Causeway did his running across the pond! A winner of 9 of 13 races, an earner of approx. $3.1 million, a Champion, and a multiple G1 winner, Giant's Causeway was known on the racetrack as an "Iron Horse," a nickname he deserved because he danced every dance! When he was 3, he made 10 starts and unbelievably 9 races were G1s! He won 6 of those 10 starts – 5 of them G1s! And he ran all year, starting out with the G3 Gladness Stakes in the spring and ending with an breath-taking 2nd to Tiznow (beaten only a head!) in the G1 Breeders' Cup Classic!
It made good sense to retire him to Kentucky instead of Ireland, considering that the colt ran his eyeballs out in the BC Classic in his one and only start on dirt! He was also a miler to 1¼-mile horse (best at that distance in Europe), so he was exactly what we needed here, and he hasn't disappointed. It should be no surprise that the average winning distance of his SWs is 8.9f, making his progeny, on paper at least, contenders for the Triple Crown races.
There are some other categories that Giant's Causeway leads in, too. He's the leading sire on the general sire list with progeny earnings, with $14,862,200 through Nov. 29. Second on the list is Darley's Street Cry, with $13,633,449, so it's going to be a race to the wire.
Giant's Causeway also leads all US-based stallions by number of Graded SWs, with 12. Second on the list is A.P. Indy, with 10.
At 12, Giant's Causeway is also showing strong signs of becoming a sire of sires. His sons Shamardal and Footstepsinthesand are going gangbusters this year, with Shamardal leading all freshmen sires easily with earnings of £1,328,067 over Darley's Dubawi with £589,912 and Footstepsinthesand in 4th on the list with earnings of £359,751.
The Giant's Causeways are in big demand in Europe, where they obviously take after their sire's turf abilities (46 of his 66 USWs have won on the turf). But GC is also a very good sire on synthetics and dirt, which makes him probably one of the best stallions to breed to in the "new world" of "multi surfaces." Plus, he shines in terms of class as 40 of his 66 USWs have won in group/graded company, and 16 of those are G1 winners!
There are many reasons why GC is so successful and one of those is that his pedigree is free of Mr. Prospector. Combine this with the fact the Storm Cat/Mr. Prospector cross AND the Rahy/Mr. Prospector (Rahy is GC's damsire) cross have been hugely successful, and you have a stallion who fits perfectly with much of the U.S. broodmare population. So, it's not surprising that 11 of GC's 16 G1 winners are out of Mr. Prospector-line mares and another, First Samurai, is out of a mare with Mr. P in her pedigree. Furthermore, 30 of GC's 66 USWs have Mr. P somewhere in the pedigree of the dam.
Coolmore did breed him to very large books, which made it almost impossible for him to show profitability by yearling median sales, but GC's absolutely amazing ability to get the "big horse" – isn't that what breeding is all about? – at a very consistent rate makes him an exceptional stallion at a very reasonable price!