By Jack Werk
The Arc is tomorrow, but yesterday – Friday – I believe something significant happened that could affect our world here in the US of A. At a small track in Ireland named Dundalk, a G3 race called the Diamond Stakes was contested at 10f and 150yds on the synthetic. The easy winner (by 5 lengths) of the race was none other than the Coolmore-owned Mastercraftsman – one of the best 3-year-old milers in Europe this season.
What was Mastercraftsman (click here to view 5-cross pedigree), a winner of 7 of 11 starts, including the G1 Irish 2000 Guineas at 8f (click here to view race) and the G1 St. James's Palace Stakes at Ascot at 8f, doing in this race, you ask? Well, it was his ticket to the Breeders' Cup at Santa Anita, where the races are on synthetic. It's probable, like Coolmore's Henrythenavigator last year (also a 2000 Guineas/St. James's Palace winner!), that Mastercraftsman will run in the Breeders' Cup Classic at 10f. Henry almost won the race last year, and the winner of the race, Raven's Pass, was another top miler from Europe!
If Mastercraftsman does run in the BC Classic, he'll face his stablemate Rip Van Winkle (click here to view 5-cross pedigree), who punched his ticket to the race with a win in the G1 QE II, and it's possible that they could run 1-2, just like the Euros from last year.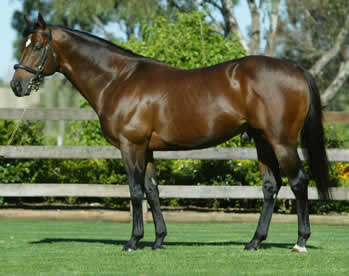 Coolmore, it just so happens, owns the 3 best colts in Europe not named Sea the Stars, and each of them is by their BIG 3 sires – Galileo (Rip Van Winkle), Montjeu (Irish Derby winner Fame and Glory), and Danehill Dancer (Mastercraftsman).
It's quite possible, depending on how they fare in the BC, that Mastercraftsman and maybe Rip Van Winkle could end up at stud here, at Coolmore's Kentucky operation at Ashford Stud. Remember, that's what happened to Giant's Causeway (2nd BC Classic, 2nd 2000 Guineas, won St. James's Palace!) and Henrythenavigator (2nd BC Classic)! Look at the success of Giant's Causeway, now, as a sire! As of today, he's the leading stallion in the US by progeny earnings and unrestricted SWs!
In my opinion, it would be HUGE for the US breeding industry if Mastercraftsman and/or Rip Van Winkle also went to stud here, if they ended up doing well at the BC. They, like, Giant's Causeway and Henrythenavigator, bring top-notch sire lines with top-notch European race records to the table, and I believe we as an industry are once again at a point where we need European-raced stallions in our program.
The success of Giant's Causeway shows this, but if you look back to the 1980s, some of our best stallions were horses that had raced in Europe. Remember Nureyev? Well, he was the DQ's 2000 Guineas 1st! How about Blushing Groom? He won the French 2000 Guineas! Anyone remember Nijinsky? He was the last English Triple Crown winner! How about Roberto, sire if Dynaformer? All he won was the Epsom Derby! Caro, the sire of Kentucky Derby winner Winning Colors? Well, he won the French Guineas!
El Prado (by Sadler's Wells), one of my favorite stallions, was an ex-Coolmore runner that Frank Stronach took a shot with here, and look how he did! Not only did he become an excellent sire, but his son Medaglia d'Oro got the great Rachel Alexandra from his first crop! Like I've said in previous posts, El Prado was a "transitional sire" for Sadler's Wells from turf to dirt, and horses like Mastercraftsman (for Danehill Dancer) and Rip Van Winkle (for Galileo – the new Sadler's Wells!) could become the transitional sires for their sires.
This could very well be the perfect time in history for another wave of Europeans!