By Jack Werk
In my last post, I noted that Adena Springs' El Prado has become the "transitional" sire for the Sadler's Wells line in North America, in that this traditional turf line has made a breakthrough on the dirt and all weather in North America. We've seen it with El Prado himself, and he's passed this ability on to his son Medaglia d'Oro – the sire of superstar Rachel Alexandra and a bunch of other talented dirt runners. In fact, just 3 of Medaglia d'Oro's 10 SWs have won on the turf. Well, I highlighted another son of El Prado, Kitten's Joy (click here to view stallion directory page), in this space in August (click here to read), and since then he's been represented by two black type winners from his first crop – both on dirt, too!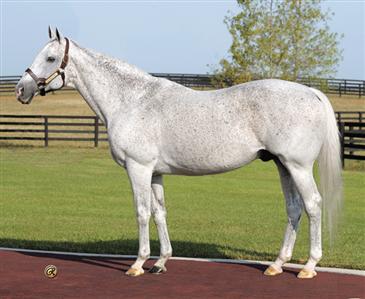 On Saturday, William's Kitten (click here for pedigree) destroyed the field in the $150,000 Sunday Silence Stakes (click here to watch the race) at Louisiana Downs (in second was a Perfect Soul – another son of Sadler's Wells!) on dirt.
On the same day at Woodbine Becky's Kitten (click here for pedigree) ran 2nd in the G3 Summer Stakes on turf. The Summer was a $306,050 stakes at a mile, and the Sunday Silence was at 1 1/16 miles – which is exactly the distances the Kitten's Joy runners need! Kitten's Joy was the champion turf male who won 9 of 14 starts and earned $2,075,791 at distances of up to a mile and a half, so the stamina is there. But with 11 first-crop 2-year old winners to date, he's showing that he's not going to be just a sire of late-maturing plodders! His runners can mature early, and they are telling us that they are probably going to get even better with age.
Kitten's Joy's other stakes winner is Sweet Kitten (click here for pedigree), a filly who won the G2 Eduaro Cautino Insua in Puerto Rico on Sept. 13 at 6 furlongs. Now, Puerto Rico is a Part II country in International Cataloguing Standards, which means that the "Grade" doesn't count, BUT the black type does! Sweet Kitten, therefore, is a legitimate black type winner! And this race was on the dirt, too!
Another update from my original post on Kitten's Joy is the maiden special winner Shrimp Dancer (click here for pedigree), who won at Belmont on turf at 1 1/16 miles last Thursday. He looks like he's got a future, too.
The impressive thing about the Kitten's Joys is that with the exception of one runner, all the others have won maiden special weights, which tells you something about the class of his runners.
With the way Medaglia d'Oro has proven himself, and the way Kitten's joy is establishing himself with his first crop, you have to take a close look at two other sons of El Prado at stud: Artie Schiller and Borrego.
Artie won 10 of 22 starts and earned $2,088,853, with a win in the G1 Breeders' Cup Mile. He stands at Ben Walden's Paul's Mill (click here for his stallion directory page). Borrego won 5 of 20 starts and earned $2.052,90, with a wins in the G1 Pacific Classic and Jockey Club Gold Cup at 1¼ miles. He stands at Wintergreen (click here for his stallion directory page).
Medaglia d'Oro won 8 of 17 starts and earned $5,754,720, with a win in the G1 Travers at 1¼ miles.
The pattern is obvious: Each was a G1 winner with high racing class that won at routes from a mile up to 1½ miles, at the highest level. This stamina, plus the class of El Prado and Sadler's Wells, could well make this branch of Northern Dancer the new force to be reckoned with in North America!