By Jack Werk
I've been saying for several years now that Danzig is the most influential sire line worldwide, because of Danehill's influence in both Europe and Australia and Green Desert's influence in Europe. Danehill, of course, has become the most dominant sire line in Australia since Sir Tristram. Lately, the Green Desert branch of Danzig has been on fire in Europe with Cape Cross (sire of one of the all-time greats Sea of Stars), Oasis Dream (having a dream season with 18 SWs and 3 G1 winners), and Invincible Spirit. Argentina is starting to appreciate Orpen (by Lure, by Danzig), who has an incredible 4 G1 winners worldwide in 2009, and Brazil has had Burooj, the sire of Hot Six, one of the best older horses there and the winner of the G1 Latinoamericana this year.
The extent of the Danehill/Green Desert influence in European racing is best illustrated by viewing the latest list of unrestricted SWs by European sires. FIVE of the 11 stallions (8 or more SWs) descend from these two Danzig branches. Danehill Dancer (Danehill) leads with 19, Oasis Dream (Green Desert) has 18, Dansili (Danehill) has 10 SWs, Cape Cross (Green Desert) has 9 SWs, and Invincible Spirit (Green Desert) has 8 SWs. Click here to see the complete list.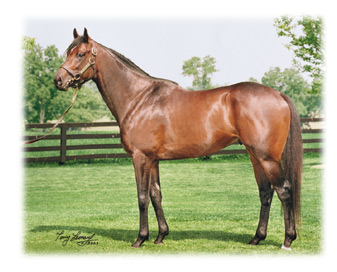 North America has always had some moderately successful sons of Danzig like Exchange Rate, Langfuhr and Polish Numbers, as well as a bunch of sons at the regional level from California to New York, but none that have really sizzled because the Danzigs are basically turf horses, and, in America, there is a much greater demand for dirt horses than turf horses. After all, a turf horse is not likely to get an owner or trainer on the Triple Crown trail.
I was again reminded of this today because War Chant, who stands at Three Chimneys and was bred and raced by WTC client Irv Cowan, had his biggest winner to date this year, and you guessed it – it was in Europe on the turf!
Kingsfort, a 2-year-old colt by War Chant, won the G1 Vincent O'Brien National Stakes at the Curragh yesterday over a field jam packed with quality runners.
War Chant is a good stallion and a great value. Consider this: Currently, War Chant is tied for 6th place as North America's leading sire of unrestricted SWs with 8, and tied for 4th place as leading sire of first-time unrestricted SWs with 7. The seven stallions ahead of him have an average stud fee of $135,714. War Chant's stud fee? $15,000!
But, with 19 of War Chant's 21 unrestricted SWs winning on the turf, demand for his progeny by U.S. buyers has been less than overwhelming. Considering the Danzig sireline's success in Europe, there's no telling how big a stallion he might be right now had he retired to stud in Europe. Well, one thing's for sure. If the American buyers don't warm up to his progeny, the European buyers will have a hay day picking up War Chants at bargain prices.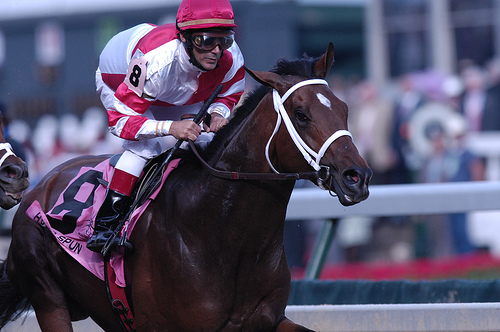 Well, this brings me to Danzig's last best hope in the U.S. and a stallion I absolutely love- Hard Spun! He was different than most of the Danzigs because he relished the dirt. In fact, he NEVER ran on the turf. He was basically a miler with the heart to go a mile and a quarter and did so running 2nd in the Kentucky Derby to Street Sense and 2nd in the Breeders' Cup Classic to Curlin!
I believe Hard Spun will be for the Danzig line in North America what El Prado is for the Sadler's Wells line in here – the "transitional" sire in a line of turf sires that adapts to dirt.
You heard it here first!