On Sunday, the 2-year-old filly Wildcat Aly, a daughter of Wildcat Heir, won a $62,600 Maiden Special at Woodbine to become her first-crop sire's fifth winner of the young season! At WTC Inc., we spend a lot of time tracking young stallions, and to have five individual winners by mid-May is an obvious indication that a stallion is siring precocious stock and needs to be followed closely.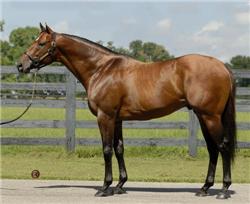 Wildcat Heir stands for $6,500 at Brent and Crystal Fernung's Journeyman Stud in Florida and has all the credentials to do what he's done so far. He's by the Storm Cat speed influence Forest Wildcat, who as a racehorse won 2 of 5 starts at 2 but actually didn't get good until age 5, when he won two G3 races – the Maryland Breeders' Cup Handicap where he equaled Pimlico's six-furlong track record of 1:09, and the Finger Lakes Breeders' Cup Stakes. Forest Wildcat began his career for $10,000 at Brookdale Farm in Kentucky and went on to sire 55 stakes winners before his death last year. One of his sons, the French sprint G1 winner Var (click here to view his pedigree), is now at stud at Avontuur Estate in South Africa. Var is off to a sensational start at stud, too, with 12 individual winners from his first crop (Southern Hemisphere-bred) and two stakes winners. Wildcat Heir, so far, appears to be following the same path as Var!
Wildcat Heir (click here to view his pedigree) has speed and precocity on the bottom side of his pedigree, too. His dam, Penniless Heiress, is by the fast Pentelicus, a son of Fappiano. She produced three stakes winners, all by Forest Wildcat. All were winners at 2, and one of them won Graded races as a juvenile. Forest Heiress won 4 of 5 at 2, including the G3 Sorority Stakes and G3 Valley Stream Stakes.
Wildcat Heir was second in the G2 Sanford Stakes at 2, and like his sire didn't get good until he was older. At 4, Wildcat Heir won the G1 Frank J. De Francis Memorial Dash. He retired with a record of 6 wins from 12 starts.
Like his sire, and like Var, Wildcat Heir was pure speed, and he's living up to his pedigree and racing class. He got his first winner, the filly Kitty in the Bag, on April 1 at Santa Anita in a 2-furlong Maiden Special, and he followed up with his second winner April 3 at Gulfstream Park when the colt Convoy Ahead won a 2½-furlong Maiden Special. Then on May 2 the filly Wildcat Honor won a 2-furlong Maiden Special at Calder, which was followed by the filly Richiegirlgonewild in an about 2-furlong Maiden Special at Arlington. Wildcat Aly's win on Sunday at Woodbine came at 4½ furlongs. (Click here to view the pedigrees of Wildcat Heir's 5 winners)
Three of Wildcat Heir's runners won on synthetic surfaces, which is a promising sign because of the opportunities for them down the road. How far they will stay is yet to be determined, but so far, so good!
Oh, and one more thing. How important is the G1 De Francis Memorial Dash as an indicator of future stallion potential? Just look at some of the previous winners – Cherokee Run, Yes It's True, Montbrook and Smoke Glacken!