It's easy to get caught up in what's going on here in the
U.S.
, but these days, especially, it pays to follow global trends – and there's something huge brewing in
Europe
that bears watching. One of the biggest sire-line developments of recent times is the growing influence of sons of Green Desert (by Danzig), highlighted recently by the Irish National Stud's Invincible Spirit, who had three SWs this past week in Europe and Australia! On 4/18, the Australian-bred I am Invincible won an Aussie G3 at 5-plus furlongs and Irish-bred Staying On won a European Listed race at a mile; on 4/19 the Irish-bred Kargali won a Listed race at a mile in Europe; and a month earlier English-bred Peach Pearl won a Listed race at 6-plus furlongs in Europe.
Now keep in mind that Invincible Spirit, who stands for 50,000 Euros, had 12 SWs in his first two crops (with his 3rd crop just 2 in 2008), and as of today he's represented by 22 SWs (both hemispheres) with 8 Group winners! Ladies and gentlemen, this is a horse afire!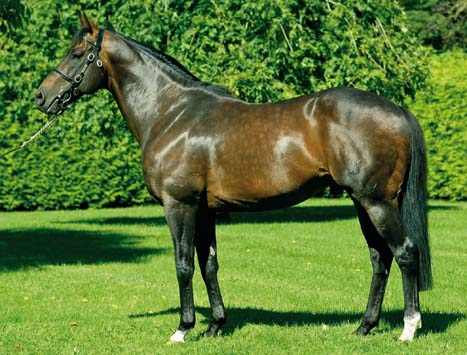 The
Danzig
influence through
Green
Desert
and Invincible Spirit is speed and precocity (I would call this a pure Brilliant line on the Dosage scale). The average winning distance (AWD) of Invincible Spirit's SWs is 6.9 furlongs, although it should be noted that his best son Lawman (click here to view pedigree) won the French Derby. Invincible Spirit was a winner at 2, a co-champion Irish sprinter at 3, a G3 winner at 4, and a multiple group winner at 5, including a 6 furlong G1.
Now, here's the pattern that shows what Invincible Spirit is doing is not in a vacuum: Green Desert also is the sire of successful young stallions Desert Style (France), the sire of 16 SWs, 5 of which are G1 winners including the champion 7-furlong horse Paco Boy (click here to view pedigree); Desert Prince (Germany), sire of 3 G1 winners from 31 SWs; Oasis Dream (England), the sire of 9 SWs, 7 of which are Group winners, including Group 1 winner Naaqoos (click here to view pedigree); promising young sire Kheleyf (Ireland), who has 3 SWs to date; and the big daddy of them all, Cape Cross (Ireland), the sire of 48 SWs, including 6 G1 winners in Europe and the Southern Hemisphere. (Click here to view the pedigrees of Invincible Spirit, Desert Style, Desert Prince, Oasis Dream, Kheleyf, and Cape Cross.)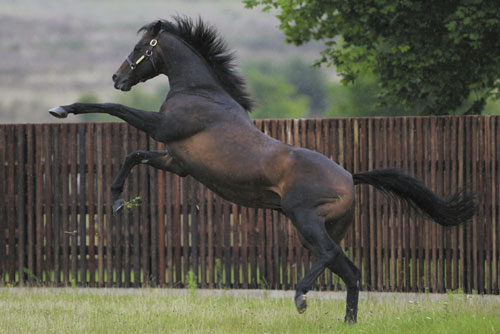 Their sire, 26-year-old Green Desert, is still active at and stands for 25,000 pounds at Nunnery Stud for Darley, an absolute bargain in my opinion! Green Desert was a G1-winning sprinter and he's the sire of 87 SWs, including 11 G1 winners. Remember Sheikh Albadou, who won the Breeders' Cup Sprint in 1991. He was a son of Green Desert. So was US G1 winner White Heart, as well as Invincible Spirit, Cape Cross, Desert Prince, and Oasis Dream – all of them milers or sprinters! To date, the Green Desert sire line is responsible for an incredible 338 unrestricted SWs and 38 G1 winners.
The U.S. has been resistant to importing European stallions because of the commercial challenges they pose. But, given that this is a branch of Danzig that specializes in speed and 2-year-old racing, and given the proliferation of all-weather tracks here, you'd have to think that it's only a matter of time before one of his sons comes here. Let's face it – our racing here is tailor made for this line!
Invincible Spirit was the champion European first-crop sire of 2006, when he had 35 individual 2-year-old winners! That's cookin' know matter how you slice and dice it!