My last blog on the very successful South African stallion Western Winter (Gone West – Chilly Hostess, by Vice Regent) and Sid Fernando's recent blog article about Spend a Buck's (Buckaroo – Belle de Jour, by Speak John) amazing results in Brazil made me realize once again that a stallion's success depends so much not only on the right types of mares he's bred to but also on the environment where their foals will race.
One of the great recent examples of this is the stallion Zamindar (Gone West – Zaizafon, by The Minstrel). Zamindar was a G3 winner at 2 and 3 in France, and he was a full brother to the successful European stallion Zafonic, a G1 winner at 2 and 3 (classic winner of the English 2000 Guineas). After covering his first three crops at Banstead Manor Stud in England for an advertised fee of 20,000 pounds, he crossed the pond to stand at Florida's Marablue Farm in 2001 and 2002 for $5,000. The result was a fair amount of cheap claimers in the U.S.
Now fast forward a few years later: Over the weekend the media reported that his daughter Zarkava was named Horse of the Year in France for 2008! The undefeated filly owned and bred by the Aga Khan won the Arc last year and has been compared to some of the best European fillies of all time. And Zamindar, was the leading sire in France in 2008!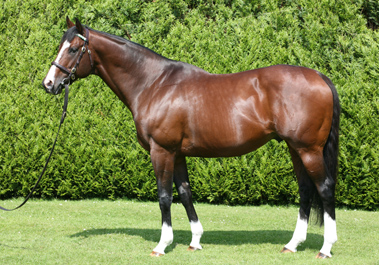 Talk about a turnaround! And How? And Wow!
The Wows followed the How after Zamindar returned to Juddmonte Farm's Banstead Manor Farm near Newmarket. It all started after Juddmonte's English-bred filly Zenda, a half-sister to the promising sire Oasis Dream, won the G1 French 1000 Guineas in 2002.
Since then, Zamindar has been represented by a bunch of really high-quality European runners, including:
Coquerelle (G1 in France)
Crossharbour (G3 in France)
Darjina (4 G1s in France, including the French Guineas in 2007)
Modern Look (G2 in France)
Zarkava (6 G1s in France, including French Guineas, Oaks, and Arc in 2008)
(Click here to view pedigrees of these five SWs)
Obviously for Zamindar, the right types of mares and the style of racing in France (including turf courses that have give in the ground) was the key.
Sid pointed out similar stuff with Spend a Buck, who kicked around farms in Texas and Louisiana after he left Lane's End, and then found what he needed in Brazil – which he noted included mares by Ghadeer, a Lyphard stallion. Six of Spend a Buck's 9 Brazilian-bred G1 winners were out of Ghadeer mares! Now, this is simply the terrific nick of Buckpasser/Northern Dancer, through a son – Ghadeer – not available in the US. The nick? It's a Werk nick rating of A++!
Let's go back to Western Winter. Would he have had the same success had he started his career in the US, where he raced? Probably not. But in South Africa, he's had access to mares by Dancing Champ, Northfields, and Fort Wood – all Northern Dancer line branches not available here – and they have suited him beautifully. His best horse, Yard-Arm (Click here to view pedigree), for example was out of a Dancing Champ (by Nijinsky) mare, and this is nothing but the successful Gone West/Nijinsky nick, which we rate A++.
It's the same nick of Zamindar's Zarkava, too. Zarkava (click here to view pedigree) is out of a mare by Kahyasi (by Ile de Bourbon, by Nijinsky).
It all comes down to this: While some things change, others remain the same!