It's 17 days into the new year and the Juddmonte stallion Mizzen Mast (Cozzene – Kinema, by Graustark) already has two stakes winners – one on each coast! Today Darley's Barrier Reef won the Evening Attire Stakes at Aqueduct to join Jibboom, who earlier this month won the G3 Monrovia at Santa Anita, in the black-type column for his sire – the 3rd leading third-crop sire of 2008 behind Street Cry and Johannesburg.
Darley's Street Cry is the best young sire in the US and stands this year for $150,000; Coolmore's Johannesburg has been fabulous and stands for $35,000. Mizzen Mast stands for a mere $17,500!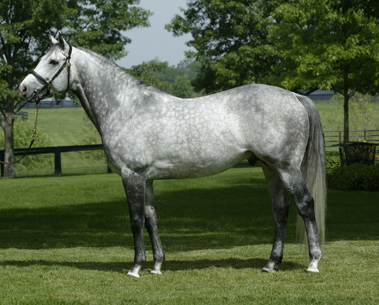 Mizzen Mast is the sire of two 2009 SWs

Mizzen Mast is a son of Cozzene and has no inbreeding in his pedigree within five generations. He's one of several successful young sires in the US who are in the right place at the right time and are taking advantage of the Mr. Prospector/Northern Dancer saturation in North American pedigrees. Another is Indian Charlie, a complete outcross through four generations. Like Mizzen Mast, Indian Charlie is from the Caro line through Siberian Express and In Excess.
So, it shouldn't be surprising to see that Mizzen Mast has enjoyed success with both Northern Dancer and Mr. Prospector. In fact, Indian Charlie himself is out of a daughter of Leo Castelli (by Sovereign Dancer/Northern Dancer), and the Caro line has especially enjoyed warm relations with mares from the Northern Dancer line since his importation to the US in the late 1970s from France. And that pattern has continued with his sons and their sons, especially in Japan, where it looked like the Caro line had the best chances for thriving. (One of the best racehorses in Japan in the mid-1990s was Biwa Hayahide, a son of the Caro stallion Sharrood out of Pacificus, by Northern Dancer! His success led to many more sons of the Caro line heading there. Also, it should be noted that in 1969 the sire of Caro, Fortino, had himself been exported to Japan!)
Mizzen Mast, according to WTC stats, is the sire of nine unrestricted black-type SWs, and that does not include the Japanese SW Tropical Light in our tally because the race he won in Japan does not get black-type according to "International Cataloguing Standards.
Mizzen Mast's 9 SWs are: Barrier Reef, Jibboom, Imaginary Sailor, Madeo (who was the 3rd choice in the G2 San Fernando today but was vanned of the track), Moonee Ponds, Stern Opinion, Yacht Woman, Armonk, and Mast Track.
Of these nine SWs, five are out of Northern Dancer-line mares. They are:
*Imaginary Sailor (out of Imaginary Cat, by Storm Cat/Storm Bird/Northern Dancer)
*Madeo (out of Passion Flower, by Deputy Minister/Vice Regent/Northern Dancer)
*Moonee Ponds (out of Lotka, by Danzig/Northern Dancer)
*Stern Opinion (out of Helstra, by Nureyev/Northern Dancer)
*Yacht Woman (out of Yacht Club, by Sea Hero/Polish Navy/Danzig/Northern Dancer)
That's five SWs out of five different broodmare sires! Two other SWs, Armonk and Jibboom, have Northern Dancer in their pedigrees via Nijinsky (which we'll discuss later). Consequently, seven (7) of nine (9) with Northern Dancer in the pedigree!!
Let's take a closer look at the dams of the SWs out of Northern Dancer-line mares:
*Imaginary Cat was unraced and also produced the Maria's Mon G3 winner Cause to Believe. Maria's Mon, by the way, was out of a Caro mare.
*Passion Flower was a SW but has not produced another SW besides Madero.
*Lotka, a G1 winner, produced two additional SWs: a G3 winner by Alydar and a Japanese SW by Kingmambo.
*Helstra won one race, and also produced a cheap Puerto Rican SW by Smart Strike.
*Yacht Club won three races, and Yacht Woman is her second foal and only SW.
Only one of these mares, Lotka, was a G1 winner, and the other four (Passion Flower was not much of a SW) were ordinary if they ran.
Three of them produced their best or only SW by Mizzen Mast!
Mizzen Mast is out of a Graustark (by Ribot) mare, and it's interesting to note that another son of Cozzene who has developed into a legitimate mid-level stallion, Alphabet Soup (another five-generation outcross!), is out of a mare by Arts and Letters (by Ribot). In general, however, Caro over Ribot has not been a particularly strong nick.
The Ribot Factor

In Mizzen Mast, I've noticed that Ribot shows up in the pedigree of the dams of four of his nine SWs! Like Northern Dancer, this appears to be an important factor for Mizzen Mast. Let's take a look:
*Armonk (inbred to Graustark 3×4)
*Mast Track (4×6 to Ribot)
*Moonee Ponds (4×4 Ribot)
*Yacht Woman (3×4 Graustark)
Two of these SWs, Moonee Ponds and Yacht Woman, also were produced by Northern Dancer-line mares and were discussed above.
Looking at the dams of the other two SWs, we see that Flaming Satan, the dam of Armonk, won three races and produced one other SW, a listed winner by Sandpit. Mizzen Mast's Armonk is a better racehorse than the Sandpit.
Mast Track's dam Nawal was G3-placed in France, but she has not produced anything near the quality of G1 winner Mast Track from six foals of racing age.
The running tally now is that five of the seven dams of Mizzen Mast SWs produced their best foals by Mizzen Mast!
Add a Dose of Raise a Native!
Four of Mizzen Mast's nine SWs have Raise a Native in their pedigrees, with two strains coming from Exclusive Native and the other two from Mr. Prospector.
Let's take a look:
*Armonk (has Exclusive Native)
*Barrier Reef (out of Exclusive Native line mare)
*Imaginary Sailor (has Mr. Prospector)
*Jibboom (out of Mr. Prospector-line dam through Gone West)
Let's take a look at the dams of Barrier Reef and Jibboom. Barrier's Reef's dam, Partyship, was a non-winner, and her best foal is Barrier Reef! Jibboom's dam Palisade won two races, and Jibboom is her best foal and only SW from five foals of racing age!
The running tally now is that seven (7) of the nine (9) dams of Mizzen Mast SWs produced their best foals by Mizzen Mast!!
As I mentioned in bold type earlier, seven of the nine SWs have Northern Dancer in the pedigree, with Armonk and Jibboom having Northern Dancer somewhere in the pedigree through Nijinsky.
It appears, therefore, that to date the successful Mizzen Masts have had the following elements in their pedigrees:
1) Northern Dancer-line mares (5 of 9)
2) Inbreeding to Ribot (4 of 9)
3) Raise a Native in the pedigree through Exclusive Native and Mr. Prospector (4 of 9)
4) Northern Dancer somewhere in the pedigree (7 of 9)
What's also been evident is that Mizzen Mast has significantly upgraded his mares' produce records, and he has not required well-raced mares to sire black type winners. What's particularly interesting about his SWs is that eight of the nine have a Werk Nick Rating of A or better, striking because this sire line is represented by only a few stallions!
Mizzen Mast also appears to get high-quality runners on turf and dirt, and some on synthetics, over a wide array of distances. He has SWs in the US and Europe, and a very high percentage of his runners (over 90% from his first crop, age 4 in 2008) also make it to the races. In 2009, his reputation could actually improve because he has a sizeable number of promising young horses – several already graded placed – who could become graded winners. In my opinion, he's an outstanding choice for breed-to-race operations, an important factor in these uncertain economic times.
One thing is for sure, it appears that Mizzen Mast will improve your mare!